The Ultimate England Travel Bucket List
Are you planning a trip to the UK and need some help with your itinerary? You certainly are in the right place. This is a list of the best places to visit in England put together by some of my favorite travel experts.
So, what's my inspiration behind this huge post? A few months ago when we were planning our trip to England, we were struggling. Struggling to figure what to put on our itinerary and what not to – there's just so much to see and so little time!
So, obviously, it came down to a battle of the head versus the heart. And you know how that goes, right? (We couldn't afford to listen to our hearts. Big surprise!)
So yeah, we had to settle for visiting only a handful of attractions in England. However, if you're visiting England anytime soon, I'd definitely recommend spending a good amount of time there. It is a gorgeous country, to say the least – with an insane amount of natural beauty and cultural diversity. Trust me, you won't be disappointed.
Do you love to get lost in nature? Here's a little taste of the Scottish Highlands for you.
So, let's dive right in and explore 26 of the best places to visit in England, shall we?
1. Windsor
Remember how beautiful Windsor looked for Prince Harry and Meghan Markle's wedding? It positively sparkled in the sunshine!
This picturesque town is one of our favorite places in England. It's home to the oldest and largest occupied castle in the world.
England is known for its ancient castles. However, if you only have time to visit one, it needs to be Windsor Castle. Only a 10-minute walk from Windsor & Eton Central station, it's certainly one of the best places to visit in England.
We spent 2-3 hours using the fascinating audio guide to explore the castle. Make sure to buy your entry tickets online beforehand to skip the queue.
Climbing the Round Tower will reward you with a stunning view. The State Rooms (including St George's Hall, the venue for the Royal Wedding reception), Queen Mary's Dolls' House, and St George's Chapel (location for the Royal Wedding) will easily keep you busy for hours.
The Long Walk through Windsor Great Park gives the best views back to the castle. And, if you time it right, you can also watch a much more intimate Changing of the Guard ceremony than the huge one at Buckingham Palace.
Apart from the castle, check out Eton College where the Royals go to school. You can also visit the old-fashioned village of Datchet with a river full of swans to feed.
And, if you're looking for fun things to do in Windsor for kids, then a short taxi ride to LEGOLAND Windsor is a day of adventure in itself!
How to Reach
You can easily explore Windsor on a day trip from London. It's only about half an hour on the train from London Paddington.
Catch the train there, then use the hop-on-hop-off bus to get around. It is one of the best places in England to spend a few days, away from the madness of London. You can use it as a base to explore the stunning surrounding countryside.
2. Bristol
Bristol boasts of two major universities – part of the reason why it's so vibrant and one of the best places to visit in England. Make sure to check out Wills Memorial Building in Park Street, situated next to the Bristol City Museum.
Bristol is also home to Wallace and Gromit (from Aardman Animations) and street artist Banksy. There are a ton of Banksy street art tours on offer here.
A short walk from the City Centre, you'll find the "longest street of independent traders" along Gloucester Road. You can find almost anything here and the best part is that nearly all of the shops are independently owned – so anything you buy goes straight back to the local community, and not the fat-cats in the chain-based shops.
If you like slightly quirky shops, head over to St. Nicholas Market in the old part of town.
Bristol has a maritime history too. Replicas of both the "SS Great Britain" and "The Matthew" take up residence in the Bristol docks. There are numerous pubs located along and around the docks.
You can spend a long weekend in Bristol and still have lots of stuff left to do. There is always so much going on that makes it one of the best places to visit in England.
Before you go, check out these 3 cool facts about Bristol:
We gave the world one of the most iconic villains in movie history. David Prowse, the actor who played the infamous Darth Vader in the original Star Wars movie, was from Bristol.
Bristol claims to be the world's largest producer of hot air balloons. Bristol is host to the International Balloon Fiesta which is the biggest of its kind in Europe. If you are in the city at this time, be sure to catch the Night Glow and the mass launches at dawn and dusk.
The BBC Natural History Unit (famous for awesome productions like Blue Planet and Planet Earth) is located on Whiteladies Road in Bristol.
How to Reach
Bristol is located conveniently, right where the M4 & M5 Motorways cross paths. Just a stone's throw away from Wales. With its own international airport, Bristol is an easily-accessible must-see destination and undoubtedly one of the best places to visit in England.
3. Helmsley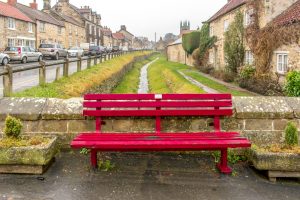 When I think of the quintessential English village, Helmsley always comes to mind. Located in North Yorkshire, this charming market town has everything you could want for a relaxing weekend away – cute dog-friendly hotels, a spa, it's very own brewery, a family-run tea room, and a castle!
It's the perfect starting point for exploring the Yorkshire Dales. However, with so much beauty in Helmsley itself, you don't even need to leave.
Spend a day wandering Helmsley's quiet streets – popping into the local shops and galleries before stopping for lunch at one of the pubs near the main square. Then, explore Helmsley Castle and take a walk through the surrounding area.
When you're too tired to go on, pop into Helmsley Brewing Co. to try one of their incredible beers. End your night at the Black Swan's award-winning restaurant and their cozy bar. It's the perfect place for a quiet night or weekend away, and I guarantee you'll be left wanting to go back for more!
How to Reach
Helmsley is most easily accessed by car. However, you can also reach via Malton and Thirsk train stations, each about 20 minutes away. A weekend in Helmsley (two nights) is the perfect amount of time for exploring the village and its surrounding areas.
4. Chester
Chester is one of the most beautiful cities in England. It has a rich history going back over 2000 years to Roman times, and you can even walk a two-mile (3 km) circuit around the ancient town walls.
Within the walls, Chester Cathedral is wonderfully atmospheric – the medieval Gothic interior one of the most impressive attractions in England. The famous Chester Rows occupy several streets nearby. These 700-year-old timber buildings are the amazing setting for many of Chester's city center shops.
Many of the other streets are lined with similar Tudor-style buildings from the 19th century, which was when the famous Eastgate clock was also built.
Just outside the city, Chester Zoo is one of the best places to visit in the UK. They have a great wildlife collection – our favorites were the magnificent orangutans, one of whom was fascinated by our camera and wanted to play with it.
How to Reach
Chester is well-connected, with the fastest trains from London Euston taking around two hours. It's also very close to the two main cities in the north-west of England – Liverpool and Manchester. Both around an hour away. If you're in the UK, you definitely shouldn't miss Chester – one of the best cities in England.
5. Castle Combe
Castle Combe, often called England's prettiest village, nestles in the bucolic Wiltshire countryside. The village is the scene of filming for many movies – you may recognize it from War Horse.
At the heart of the village is the Old Market Cross. You can stroll down the main street from there. Every cottage here looks like a dream – with honey-colored stone walls, leaded glass windows, and old wooden doors. Some of the cottages have cakes or jams for sale outside via an honesty box system.
A river runs through the village with a bridge over it and trout swimming in the waters below. Pause a while to admire the view before you explore the charming village church. This is England of a bygone age, of films and TV dramas.
If you're in a dash, you can explore the village in an hour. If you're lucky enough to have longer, stay for lunch or afternoon tea in the Castle Inn. For an overnight stay, either the Inn or the magnificent Manor House Hotel has an accommodation. The Manor House is a treat in itself with uniquely designed rooms, some of which are quaint cottages on the grounds.
To see England of old, of charm and beauty and a bygone era – Castle Combe is a great stopping point. No wonder why it finds a spot in the list of best places to visit in England.
How to Reach
Castle Combe is a couple of hours by car from London or forty minutes from Bristol. You can even combine it with visiting one of England's best-preserved villages, Lacock, or the Regency city of Bath.
6. Canterbury
I never thought that I would love Canterbury as much as I did. This compact city in the South East of England packs a punch when it comes to history, culture, and things to see. Certainly, one of the best places to visit in England.
A traditionally important pilgrimage site, it's featured in folklore and legend. And of course, it's the centerpiece of Chaucer's rather cheeky Canterbury Tales.
So what makes Canterbury so special? The Cathedral for one – it's one of the most spectacular buildings in England and should be at the top of your list.
There are plenty of museums and galleries. However, much of the city's pleasure is found in wandering its streets – lined with higgledy-piggledy buildings of times past. Even the city's oldest pub dates all the way back to the 14th century.
How to Reach
It's small enough that a day in Canterbury is plenty of time to see the main sights – the perfect day trip for your time in the UK. Simply hop on the train from London.
7. Stonehenge
There are few places as interesting and mystical as Stonehenge. The structure, rather the stones in it are more 4000 years old.
No one knows about the origin of these stones with absolute certainty, however, there are many theories. Some scientists say that it used to be a sacred ground, however multiple burial grounds have been found in the area too.
The entrance to the stones is through the Visitor Center where you pay for your tickets. From there, you can walk or take the bus to the stones. It's a half-hour walk or a 5-minute ride, so you can choose depending upon your mood (or the weather).
At the Visitor Center, don't forget to check out the museum. You can also see a replica of the village that is believed to have surrounded the area. There's a gift shop where you can buy souvenirs and even grab a bite. 
You'll need a good couple of hours between the stone circle and the museum. You can even take a day and visit some other sites nearby (like the Wood Circle). It's certainly one of the best places to visit in England, so don't miss it if you're in the area!
How to Reach
The easiest way to get there is by driving.  Or you may even book a tour with any of the tour operators from London.
Did you know you can camp at Stonehenge?
8. Manchester
Manchester is our hometown so we might be a little biased here, but we think it is one of the best places to visit in England.
Up here we greet you with a smile and talk to each other rather than the solemn faces you will see down in London! Sure, the sun might not shine quite as much but we make up for that with our unique brand of humor and history.
Manchester was the center of the Industrial Revolution – a city once known as "Cottonopolis." And it's that working-class heart and innovator's spirit that remains today. Here you can see the history that changed the world in the areas around Castlefield and Ancoats.  
Things to see include:
The fascinating Science and Industry Museum.
The enormous Castlefield Viaduct.
The

Bridgewater Canal

– the world's first industrial canal, built in 1779. Also, where the first passenger railway terminated in 1830.
The area around Castlefield dates back to the Roman fort of Mancunium, a section of which still remains today.
We also have some wonderfully historic and beautiful buildings such as the John Rylands Library – a Hogwarts-esque cathedral of books that contains the oldest existing piece of the New Testament.
The incredible gothic town hall, the monumental Midland Hotel, and the Tudor buildings around Shambles Square are just a few more.
We are also a modern city with the National Football museum being housed in the URBIS building. Then there is the incredible view over the city from the 47-story Beetham Tower. The Northern Quarter is also a hub for counter culture, hipster indie shops, and innovative street art. The alternative shopping center Affleck's Palace is a must visit around the NQ.
Manchester has an eclectic mix of cultures, from passionate football fans to China town and the Gay Village. It was also home to the suffragette, Emmeline Pankhurst and the internet innovator and war hero, Alan Turing.
How to Reach
Just a couple of hours by train from London and close to other must-see places such as Liverpool and The Lake District – it is your perfect introduction to the charming North of England.
9. Lake District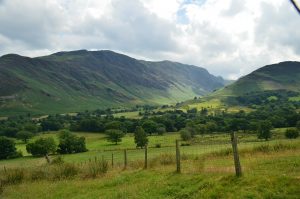 Situated on the north-west coast of England, and recently declared a UNESCO World Heritage site – the Lake District is one of the best places in England that you really shouldn't miss out on.
Although one of the rainiest counties in the UK, don't let this put you off! As the name suggests, you will find many lakes here, including Windermere which is the longest in the country. The towns that line the edge are great bases for exploring too.
In summer, you can rent a rowing boat and marvel at the surrounding fells or take the steamboat from Bowness to Ambleside. On the lake shore at Ambleside, there are some great beer gardens to watch the sunset and click photos of the fells' reflection on the water.
A little further north, and you could challenge yourself to climb England's highest peak, Scafell. Although the highest, it is not the hardest to climb in the area. People with a reasonable level of fitness should be able to complete the hike. Just be sure to reward yourself with a pint of local ale next to a roaring fire in one of the traditional pubs you'll find in every village.
Quieter areas like Langdale and Coniston offer unbeatable views and many different walking trails. Most towns and villages have a tourist information center where the staff will be happy to suggest trails suited to your ability.
There are plenty of accommodation options:
From basic hostels usually frequented by keen walkers to 5-star, luxurious hotels overlooking picturesque lakes. You can also find many campgrounds with good facilities.
The Lake District is known for being very dog-friendly, with many hotels, restaurants, and pubs welcoming your four-legged friends. My personal favorite places to eat are Chesters by the River at Skelwith Bridge –  where the huge homemade cakes and gorgeous salads are on display and ever so tempting. If in Bowness don't miss Homeground for the best coffee in the area and all-day brunch.
How to Reach
If you are driving, the M6 passes just outside of the park boundaries, and so it is easily accessible from the north or south.
If taking the train, you can get direct services to Oxenholme from London, Birmingham, Manchester, and Edinburgh. From here, change to the local train to Windermere to be transported right into the center of the Lake District.
The area is perfect for a weekend break. However, there are also enough areas to explore to fill a week or more, if looking for a longer getaway. The most popular English towns to situate yourself in are Windermere, Ambleside, and Keswick. From there, regular buses run between the smaller villages and popular tourist attractions.
10. Stratford upon Avon
Recommended by Terry and Maura from TravelKiwis | Facebook: @travelkiwis
Stratford upon Avon is the home of Shakespeare – a picturesque medieval old town and among the best places to visit in England.
While most people only visit for the day, if you love theatre, then a short stay in Stratford upon Avon is a must to enjoy one of the three theatres. Especially, the Royal Shakespeare Company even if only to visit inside the theatre.
There are many things to do and see in Stratford upon Avon. One is to visit the beautiful Tudor house, the birthplace of Shakespeare. Also, a visit to Shakespeare's Schoolroom and Guild Hall, with tours to learn more about its history.
And before you leave, make sure to take a boat ride across the River Avon on the Chain Ferry. It's only 50p to experience this piece of history.
How to Reach
The best options to reach Stratford upon Avon from London are the two-hour train from Marylebone Station, the National Express bus from Victoria Station, or by car. If you're more adventurous, you can even book a canal boat and arrive in style!
11. Cornwall
Anyone heading to England simply needs to make their way down to Cornwall – undoubtedly one of the best places to visit in England. It's a county on the southwesterly side of the island that's home to some of the country's most breathtaking natural beauty.
Famous for its cider and Cornish pasties (pastry filled with meat, vegetables, and gravy), it is also full of friendly faces and superb attractions that'll keep anyone entertained. If you're into your food, drink, and outdoor pursuits, then Cornwall will be just the place for you.
There's a lot to experience and a fair amount of diversity – with its steep cliffs in the north to picturesque coastal towns of the south. Every year people holiday there to enjoy its beaches, surfing, and hiking.
Follow the coast and head to the most southerly point of the UK – Land's End. Or head out for a party in New Quay. For its rugged coastline, tiny, historic coastal villages, and unique culture that's known only to the south-west, Cornwall is a fantastic place to visit.
The weather is best in summer, but it's also the busiest time of year to go and the beaches and towns can feel overcrowded. As a result, for a happy balance, the springtime (April to June time) is probably the best time to visit.
How to Reach
It's a long way from most places but is relatively easy to access, with options of bus, train, or air from London.
12. The Peak District
Quaint country cottages, dry stone walls, green rolling hills, and old pubs that serve real ale in front of roaring fires. This is the England that I love.
The Peak District, nestled between the big cities of Manchester, Sheffield, and Derby, is undoubtedly one of the best places to visit in England. A place I have been visiting since I was a young girl and now take my two young boys whenever I can.
With the kids dressed in puddle suits and wellies, we love nothing better than a long family walk in the Peaks. Our favorites are the Nine Ladies Circle through Stanton Moor Peak. Or the walk starting next to The Robin Hood pub in Baslow, with spectacular views from Birchen Edge.
Alternatively, hire some bikes and ride the Monsal Trail or Tissington Trail. Reward your physical activity in one of the many cozy local pubs with a pint of Black Sheep and a hearty roast dinner or chip butty.
Allow at least a week to absorb the charm of the Peak District and rent an old farmhouse collage or stay in a B&B. Our favorite place to stay is Bluebird Cottage near Parwich. 
13. Northumberland
Recommended by Stuart from Go Eat Do | Facebook: @goeatdo
One of the best places to visit in England, Northumberland is England's northernmost county. If you're into history and nature, plan on spending at least a week exploring the county's rugged coastline.
Walk along the vast Northumberland National Park and visit the ruins of Roman forts on Hadrian's Wall.
The many fortresses in the county are a legacy of tensions during the Middle Ages between England and Scotland. The castles at Bamburgh and Alnwick are two of the most photographed.
Lindisfarne, just off the coast, can be reached when the tide is out. It provides insights into the monastic heritage of the Kingdom of Northumbria that flourished before the Vikings crossed from Scandinavia.
If you're into cycling, why not hire a bicycle and cycle along the scenic coast road? When the North Sea is calm, it's worth heading to Seahouses to take a boat to the Farne Islands – which provide a habitat for colonies of seabirds and seals.
Most importantly, don't forget a camera if you plan on visiting Northumberland – there are lots to photograph.
How to Reach
It lies a little over three hours' train journey from London's King's Cross station. Or, if you're traveling south from Edinburgh by rail, Berwick-upon-Tweed is a 40-minute ride from Scotland's capital.
14. Yorkshire Dales National Park
The Yorkshire Dales National Park is one of England's greatest treasures. Yorkshire is known as "God's own country" due to its spectacular scenery – you can well imagine why it makes it to the list of best places in England.
The Yorkshire Dales National Park is a truly magnificent place with many wonderful sites to discover. Find sleepy abbeys such as Jervaulx Abbey and Bolton Abbey. Discover pretty waterfalls in Ingleton or see the remains of a gigantic ancient waterfall in Malham.
Stroll across the wild moors or if you fancy a harder hike, take on the Three Peaks Challenge. There are many wonderful walks to choose from. You can even grab a bike if you would rather explore on two wheels. The annual Tour de Yorkshire attracts thousands of keen cyclists.
There is plenty of wildlife to spot such as peregrines, falcons, martins, pheasants, and sheep of course – encircled by the beautiful dry-stone walls that snake across the Dales. Flora is diverse and in late summertime, the heather covers the moorland in a deep purple hue.
Last but not least, you cannot forget the hardy Yorkshire men themselves. You'll find these welcoming folks in beautiful stone cottages dotted around the national park. The people of Yorkshire are proud of their Dales and rightfully so.
In terms of where to stay:
You cannot choose a place that will not be surrounded by incredible scenery. Try Ingleton or Settle if you would prefer to be in a town but places like Grassington and Malham are wonderful for a village stay. I would recommend spending a few days at least, as the National park is vast.
There is so much to see and do in the Yorkshire Dales and much beauty to discover. Make sure you add this to your England travel bucket list and lose yourself in the magnificence of the Yorkshire Dales National Park.
How to Reach
Located in the North of England, the park is easy to reach by public transport. However, you may rent a car for greater convenience.
15. Salisbury
Salisbury is a city in Wiltshire, England, popular for the magnificent Salisbury Cathedral. Salisbury Cathedral is a 13th-century Anglican cathedral and a fine example of English Gothic architecture.
The cathedral spire is the tallest church spire in the United Kingdom. A climb up the Salisbury Cathedral tower offers a wonderful view of the town rooftops.
Close to the Cathedral is the Salisbury Museum based in the 13th century King's House. The museum collection comprises artifacts and information on Stonehenge and regional archaeology.
You can also visit Old Sarum – the location of the earliest settlement of Salisbury and the Salisbury Cathedral and explore the history of the region.
The journey from London to Salisbury takes about 1.5 hours by train. Buses are available too, however, they take close to 3 hours.
How to Reach
Salisbury can also be reached from Bath or Bristol by train. The journey takes a little more than an hour. The UNESCO World Heritage Site of Stonehenge is about 13 km from Salisbury and can be easily combined on a day trip from London.
16. Cambridge
I love that so many of the attractions in Cambridge are free and within walking distance of the train station. It's a makes for a great day trip from London. However, if you can stay for a weekend, there is plenty to do.
Of course, Cambridge is picturesque and home to the famous University – made up of 31 colleges. Most colleges allow visitors, although access may be limited during the school term.
Additionally, the University has eight museums that are open to the public. You should definitely visit the Fitzwilliam and the Museum of Archaeology and Anthropology which are always free.
If the weather is nice, you must try punting on the Cam River. Punting uses a boat similar to a gondola, where you stand on the back to paddle, but you use a pole instead of an oar.
If you're not brave enough to try it on your own, you can hire someone else to do the punting. You can even go on a punting tour through the lovely area known as The Backs.
How to Reach
Cambridge is one of the best places to visit in England, only an hour away from London by train.
17. London
London is usually the first stop for most people visiting the UK.  At a minimum, I recommend you stay at least three days, however, a week would be better. 
RELATED POST: The Ultimate 4 Day London Itinerary
It's certainly among the best places to visit in England with numerous iconic buildings, landmarks, and things to do.  As Samuel Johnson once said, "A man who is tired of London is tired of life." I couldn't agree more.
My favorite way of exploring London is to walk around the city.  If you are short on time, the hop-on-hop-off buses offer great value and allow you to see the city from above – unlike the Underground.
A must for any trip to London would be Buckingham Palace and the Changing of the Guard.  While you are in the area, you can check out the Big Ben, Parliament, and Westminster Abbey. 
If your feet are sore from walking around all day, you could take a cruise down the Thames and check out Tower Bridge and the Tower of London.  There is so much to explore in this city and see and do.
London

and

Manchester

are

great options for spending your Christmas

holidays too!
check out 25 awesome places to spend christmas in europe right here.
18. New Forest
This little part of England is so full of history. Also, picture-postcard thatched cottages, ponies, donkeys, wild pigs, and free-roaming cattle.
William the Conqueror named this area of Hampshire as his "new hunting forest" in 1079. Even after a thousand years, his system of protecting the woodlands still exists. You'll still find Agisters, Commoners, and Verderers managing and caring for the New Forest National Park.
We just love driving through New Forest – especially when ponies or donkeys are walking through villages, bringing traffic to a standstill! They can often be seen resting by the shops or the woodlands and are an absolute treasure.
How to Reach
New Forest is in Hampshire, only about an hour and a half from London by car, yet a world away.
19. Brighton
Brighton is a charming seaside town featuring colored houses, a lively pier, and a chilled atmosphere. Located just an hour south of London, it's the perfect weekend getaway.
Once you get to Brighton, the best thing to do is to hit the beach. The town is famous for having the most picturesque pier in the UK. A walk there is a must, especially at sunset. 
Apart from the gorgeous beach, Brighton is home to some of the funkiest shops and trendiest restaurants. Moreover, it's a must to get lost in any of the vibrant neighborhoods.
One of the most famous attractions is the Royal Pavilion. However, if you want some more adrenaline rush, ride the Brighton Wheel. And if you have more time on your hands, you can even go for a day trip to Seven Sisters Country Park.
Brighton is a hip and colorful little town. Get there and get wild!
How to Reach
The easiest way to get to Brighton is by train. A trip from London Victoria to Brighton takes approximately 50 minutes. There are trains directly from Gatwick airport as well.
20. Bath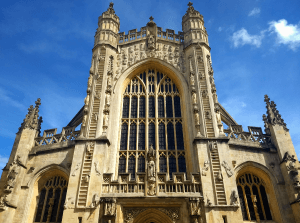 In our view, Bath is one of the best places to visit in England, where the entire town is a UNESCO site. With history and architecture around every corner, it's a town that should be on everyone's list of places to visit in England.
Of course, no visit to Bath would be complete without touring the site that gave it its name – the Roman Baths. Starting at the terrace lined with statues and the baths below, the great audio guide takes you around the site.
Just across the square is Bath Abbey – a place of worship that has existed for well over a thousand years. King Edgar was crowned on the site in 973.
The present building was restored in the early 1600's – the abbey had been left to ruins after the dissolution of the monasteries by King Henry VIII. The interior is more modern having been completed by George Gilbert Scott in 1874.
Free walking tours start outside the baths – local experts from the Mayor's Honorary Guides take you to all the key sites in the city, on a two-hour tour.
Three sites you'll visit briefly on the walking tour, worthy of a closer look, are:
No.1 Royal Crescent

shows how the original residents of this famous crescent street lived. The self-guided tour covers most of the rooms in the Georgian house – from the front rooms where the family would have lived to the areas that the servants would have spent more time in.

Pulteney Bridge

, like the Ponte Vecchio in Florence, is notable for having shops built all the way across it. Whilst the independent shops are fantastic to look around, you won't really know you are on a bridge at all! So, our advice is to view the bridge from Grand Parade to see the bridge itself.

The Assembly Rooms

consist of the Ball Room, Octagon, Card Room, and Tea Room, and can be visited free of charge if they are not being used for a function.
For a snack or lunch in a historic place, Sally Lunn's is one of the oldest houses in Bath. It also has the more famous claim of being the place where Sally Lunn created the Bath Bun.
A little further afield, but still less than a mile from the center of Bath, the Bath Skyline Walk offers a six-mile-long looped trail to explore. A great way to spend an afternoon exploring tranquil woodlands and hidden valleys with magnificent views.
How to Reach
Bath is easy to get to by train, as it is on the main line between London and Penzance. It is also easily accessible from the M4 motorway by car, making it an ideal weekend getaway.
Bath is undoubtedly one of the best places to visit in England. Full of history and packed with fun things to do, we can't recommend a weekend in Bath highly enough. And before you go, don't forget to check out these affordable hotels to stay in Bath. 
21. Isles of Scilly
A list of the best places to visit in England would be incomplete without a mention of the Isles of Scilly. A gorgeous, serene place that makes you wonder why you're competing in the rat-race when you can live a simpler life instead.
The Isles aren't a busy place, so if you're looking for some action, this isn't it. Instead, the quaint islands have charming little shops and restaurants.
Places of note include the Tresco Abbey Gardens, the Valhalla Museum, the Ruin Beach Cafe, and Gallery Tresco.
Lastly, and most importantly, the seafood here is glorious. Be sure not to miss The Crab Shack, which makes for a memorable experience.
How to Reach
Getting to the Isles of Scilly is quite a trek. From London Paddington, you can take a train to either Land's End, Newquay, or Exeter. From there you can fly the Skybus to St. Mary's, which is the main port of call.
A helicopter service is also available from Land's End. If you're not a fan of flying in tiny planes, you can get a ferry from Penzance.
22. Teesdale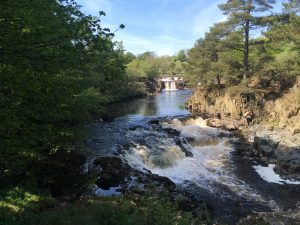 When visiting England, you really should visit an Area of Outstanding Natural Beauty – to my mind there's no better place than the North Pennines to do this. 
It's where I grew up, near the market town of Barnard Castle (which has been here since the founding of the castle of the same name in the 12th century).
The market town of Barnard Castle in Teesdale, County Durham has plenty of places to stay. We also have some good English pubs and the famous Bowes Museum with links to the Queen Mother.
My recommendation is to go further up Teesdale, to the hamlet of Newbiggin. From there a 6km round trip walk takes you along the banks of the River Tees on the route of the Pennine Way.  You can drive or take a bus (there are 3 each day) to get here.
The walk is easy – after crossing a field, you'll find the Wynch Bridge, here since 1830 and replacing an earlier bridge which was lost in heavy water with the loss of a man named Bainbridge.
Immediately after crossing the bridge you'll see Low Force – a 5.5 meter set of falls where the Tees tumbles over the hard rock of the Whin Sill.
The pièce de résistance though, is 2.4 km further up the river – High Force.  It's one of the most spectacular falls in England, dropping 21 meters into a plunge pool below.
This for me is England at her most beautiful.
How to Reach
Teesdale is around four and a half hours away from London by car or train. Buses are also available but would take you longer to reach.
23. York
York is an unparalleled medieval city located in northern England. When orienting yourself in York, it's important to remember that streets are called gates, gates are called bars, and bars are called pubs.
There are numerous reasons to visit York, but the highlights include:
The York Minster

is one of the largest cathedrals in Northern Europe. Its windows feature some of the best remaining medieval examples of stained glass.

The Museum Gardens

contain the medieval ruins of

St. Mary's Abbey.

  The summer

Birds of Prey

show in the Gardens is a must-see.

Clifford's Tower

is the only remaining portion of York Castle and is reminiscent of

Monty Python movie

backdrops.

Visitors can walk along large portions of the city walls and view remains of the Roman brickwork along with Norman and medieval portions.

The Shambles

is an old and narrow street with overhanging timber 15th century Tudor buildings lining each side.
How to Reach
York is definitely one of the best places to visit in England, so make sure you don't miss it when in England. This walled city is an easy two-hour train journey away from London's King's Cross station.
24. Dover
Dover is certainly one of the best places to visit in England – one you must not miss. It comprises a coastal town and its surrounding areas – including the castle and the White Cliffs of Dover.
Start your adventure in town – with a classic cream tea experience at one of the country pubs, such as the Waterfront Bar and Lounge. Indulge in freshly baked scones, piled high with clotted cream and jam.
Discover some history at the Dover Castle which dates back to the 11th century and offers spectacular sea views from the top of a hill.
Leave the cliffs for last! The dramatic shore is lined with chalk-white land that stands out against the blue waters and green fields. Walk along the pebbled beach for a ground floor look at the Seven Sisters, or walk the paths along the top to find great picnic spots.
How to Reach
Only a short train ride from the hub of London, Dover is a spectacular natural wonder along the English seaside.
25. Glastonbury
The air in the town of Glastonbury is thick with myths and legends.  Most of them revolve around its purported connections to both Joseph of Arimathea and King Arthur. 
Joseph was said to have brought the Holy Grail (the cup used at the Last Supper) to Glastonbury after Jesus' crucifixion.  It is also said to be the final resting place of King Arthur and Guinevere (though the historical accuracy of this myth is heavily challenged.)  
The main sites to explore in Glastonbury are:
The ruins of the spectacular

Glastonbury Abbey.

The grave sites of Arthur and Guinevere as well as a thorn tree planted by Joseph of Arimathea.

The

Chalice Well and Gardens

.

Glastonbury Tor

– believed by some to be the entrance to the mythical Isle of Avalon.
How to Reach
Glastonbury is located in the southwestern part of England. It is convenient to visit as a day trip from London by car, train, or an organized tour. It can easily be combined with stops at Stonehenge, Avebury, and/or Bath.
26. Avebury
The town of Avebury in the south west of England is notable because it is surrounded by the largest stone circle in Britain. 
The Alexander Keilor Museum is a great place to start your visit. You will get some great information about the history and significance of the Avebury site here as well as directions to the various parts of this ancient wonder. 
What I really loved about visiting Avebury was how accessible the stones were. When visiting Stonehenge, you can only touch the stones if on a prearranged tour. The stones around Avebury were free and out in the open.
There are enough stones and they are spread out over a large area so that you can explore. And it always feels like you have the stones all to yourself. 
When you are done, a visit to the Red Lion Pub in Avebury is a great way to refresh and refuel.
How to Reach
Avebury is two hours by car or train from London. It can easily be combined with a day trip to Stonehenge, Bath, and/or Glastonbury.
A huge shout out to all the awesome travel bloggers who took the time to share their invaluable insights with us!
Do show them some love and follow their journey on their blogs for some more travel inspiration. 
Like it? Pin it!