If you're already in the holiday spirit and looking for the best places to spend Christmas in Europe, read on!
Christmas is my favorite time of the year and I'm sure many of you feel the same way. Even though I'm neither Catholic nor religious, the thought of a wintry Christmas instantly lifts my spirits.
And what might be better than Europe to spend your Christmas holidays in?
So, I asked some of my favorite bloggers to share their suggestions on the best places to spend Christmas in Europe. With the holidays just around the corner, I bet this'll come in super handy when you plan your holiday travels.
Let's take a look at 25 of the best European Christmas destinations to add to your bucket list.
Budapest, Hungary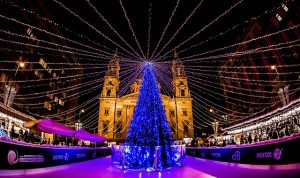 Budapest is undoubtedly one of the best places to spend Christmas in Europe.
From the 9th November, Budapest hosts one of the largest and most affordable open air Christmas Markets in all of Europe. Let the wafting scents of honey and cinnamon guide you to the city's heart of Vörösmarty square, where over 50 wooden stalls have sprung up to sell traditional Hungarian Christmas fair.
Warm your hands against a steaming glass of mulled wine as you browse handcrafted Christmas ornaments sold for a fraction of the price of Europe's other large markets. Quality is guaranteed with each stall having been vetted by a panel of Hungarian cultural experts.
Lángos, immense fried potato pancakes, make an easy market lunch. For a real local delicacy, try Kakashere Pörköl or rooster testicle stew, though a tantalizing haunch of pork knuckle makes a more agreeable option on Budapest's Christmas market menu.
There is no more fitting way to digest Budapest's Christmas experience than to soak up the warmth of the city's famed thermal baths. Or try skating on Europe's largest ice skating rink, set against the backdrop of Vajdahunyad Castle. You'll need at least a full day for Budapest's Christmas market with hopefully another two to further explore the city.
Benjamin | Tread Well Travels
Copenhagen, Denmark
Christmas in Copenhagen is one of the most awaited holidays in the year. You can notice the spirits rising when residents start setting triangle-shaped candle lights on their windows.
It's best to visit Copenhagen right before Christmas time (24-26th of December) when the majority of people go to visit their families in other parts of Denmark. However, the variety of Copenhagen Christmas markets (at least 7) that last from mid-November to 20th of December will keep you busy. So, I highly recommend visiting during these dates.
The smell of freshly-fried almonds on the street stalls and special Scandinavian mulled wine (gløgg) will lure you into one of the Christmas markets, where you can easily get lost for an hour.
Besides exploring the streets on foot admiring the festive decorations, you cannot miss a visit to Tivoli Gardens, which will impress you with a special Christmas theme. Have your camera ready to snap some of the most fairy-tale like experiences.
If you wish to warm-up after all the outdoor walking, a visit to the sauna might just do the trick. In Copenhagen, you can find mobile sauna trucks parked outside the canals on Islands Brygge, where you can warm up and swim in the sea right after – a true Viking experience!  
Lena | Travel Monkey
Berlin, Germany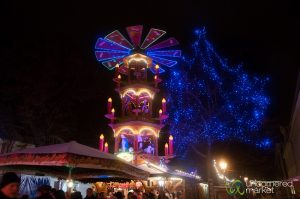 With more than 60 Christmas markets spread across the city, Berlin is one of the best places to spend Christmas in Europe.
You will always be able to find some of the standard German Christmas market fare (spiced wine, sausages, roasted nuts) in these markets. However, at each one, you'll find that most of Berlin's Christmas markets have their own theme or personality that makes them a bit different.
For example, you can find Scandinavian, medieval, green, or neighborhood-themed Christmas markets. If you want a bit of the traditional markets in a beautiful setting, we recommend the Gendarmenmarkt Christmas market.
It's impossible to take in all of Berlin's Christmas markets in one visit, but try to get to at least two or three. As the city is quite large and neighborhood-based, we recommend spending at least three days in the city to take in a bit of the Christmas spirit while also visiting several diverse neighborhoods.
History and art buffs will enjoy the East Side Gallery in Friedrichshain that has converted over 2 km of the Berlin Wall into the largest outdoor art gallery. The Mitte neighborhood is full of small modern art galleries, as well as some of the city's oldest museums on the UNESCO-designated Museum Island.
Cross the Spree River to explore Kreuzberg and Neukölln, two very diverse neighborhoods with great street art and back streets filled with cafes, galleries, and small restaurants.
Audrey | Uncornered Market
London, England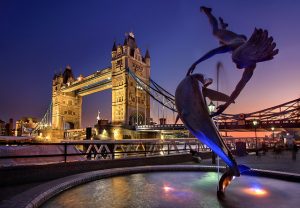 Spending Christmas in London can be a magical holiday. It is perfect for a long weekend, but there are so many festive activities around that you can easily spend a week in the capital and not get bored.
Winter Wonderland is the biggest Christmas market in London and every year several locals and tourists visit it. It has tasty food, fun roller coaster rides, comedy nights, an ice skating rink, and circus performance. The market is free to visit, but you will have to pay for the attractions.
Another popular market you can visit is Winterville. It is the home of the Backyard Cinema, where you can watch some festive movies in a lovely setting on comfy beanbags.
My favorite activity in London this time of the year is visiting Christmas at Kew. There is a mile long trail you can walk along which is decorated with many interesting lights and there is a laser show at the end as well.
READ MORE: 30 Places to See Christmas Lights in London
The whole city is in the festive spirit. Every shop window is decorated, Christmas songs are playing in cafes and department stores and beautiful lights shine in the evenings in the center. Don't miss the opportunity to experience Christmas in London if you have the chance!
Eniko | Travel Hacker Girl
RELATED POSTS:
Nuremberg, Germany
Nuremberg is certainly one of the best places to spend Christmas in Europe. Here, we call Christmas time the 5th season. The whole town is full of lights, Christmas music and a perfume of cinnamon, mulled wine, and cotton candy.
This city in southern Germany is one of the best European Christmas destinations. With its medieval city center and one of the oldest Christmas markets, it is the best destination for a long Christmas weekend.
The city has a lot to offer like shops, museums, cozy cafés, and bars. But the real highlight for the Christmas holidays is the Christkindlsmarkt, the Christmas market and the section for kids with the antique wooden carousel.
Make sure to drink some special Glühwein and have some sausages at the Bratwursthäusle, one of the most traditional places to have the regional treat "Drei im Weckla." It is located just next to the main square and the Christmas market.
Another hotspot is the castle that enjoys great views of the whole city. Make sure to turn the golden ring on the Fountain (schooner Brunnen) at the central market, make a wish, and turn it three times. There are many highlights connected with Christmas like the Gingerbread house, right by the market or Christmas tree decorating courses and other fun activities.
Nuremberg turns into a Christmas wonderland every year around the holidays. It is best to go sometime from December 1st to December 24th, since the market closes after Christmas Eve. If you want something extraordinary, be there for the opening ceremony and enjoy the kick off of the Christmas season by the real-life Christkind (a local golden angel). Nuremberg is perfect for a long Christmas weekend.
Ines | Locally Abroad | Read more: What to do on a weekend in Nuremberg
Edinburgh, Scotland
Edinburgh, Scotland's elegant capital city, is one of the best places to spend Christmas in Europe. Even on December 25th, the city doesn't entirely shut down. The medieval streets of the Old Town still buzz with visitors and if you book ahead, you'll find restaurants offering festive lunches.
You could easily spend four days in Edinburgh. Although the city is compact, it's packed with culture, history, and fun.  
During your stay, take a stroll up the Old Town's hilly streets until you reach Edinburgh Castle. It's the city's iconic landmark. And even if you don't have time to go in, the views from the castle grounds are some of the best in the city.
Balance out all the mince pies by taking a short hike to the top of Arthur's Seat. An imposing 251 m extinct volcano, Arthur's Seat offers incredible views of Edinburgh.
Afterwards, wander through the twinkling lights of Edinburgh Christmas Market. Warm up after your adventures with a cup of mulled wine before spending the evening in one of the city's many world-class theaters.
Grace | The Idyll
RELATED POSTS:
Nice, France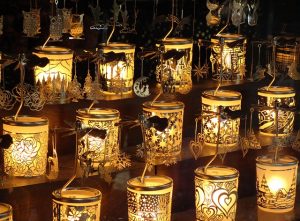 Nice is one of the best places to spend Christmas in Europe if you want some sunshine, relatively warm weather, and if you want some fun Christmas celebrations.
Nice is located in the French Riviera and has an international airport making it very easy to visit. On our visit, it was sunny every day making it perfect to enjoy the local Christmas market.
The Nice Christmas market consists of rides including a big wheel, some great food, and gift stalls. There is also an ice skating rink, Father Christmas' house, and live shows for kids. It's all lit up at night making this the best time to visit. It's lots of fun and is one of the best European  Christmas destinations. If you want more Christmas markets, some of the surrounding towns have them too.
While you are visiting Nice, you should also walk around the Old Town, walk along the English Promenade, visit the markets, and walk up to Castle Hill Park for great views.
I recommend staying a minimum of a few days in Nice, but a full week is better so you can explore more of the French Riviera and take a day trip to Monaco.
David | Paid Surveys Fanatic
Erfurt, Germany
Erfurt is the capital of the central German state Thuringia (Thüringen) and one of the best places to spend Christmas in Europe. It has multiple Christmas markets and each one is just as wonderful as the next. All of them are within easy walking distance and located along the historic cobblestone streets and old buildings.
The most prominent Christmas market is set up in front of the grand Cathedral and church, where the weekend market is usually set. A giant pyramid will greet you at the entrance and a ferris wheel invites a new perspective for photos. Stalls feature the typical Christmas fare, handmade Christmas decoration, souvenirs and winter clothing.
One thing you have to eat when in Thuringia, however, are dumplings ("Thüringer Klöße"). Sample them with gravy ("Kloß mit Soß") or with red cabbage and beef roulade ("Rinderroulade").
Mulled wine is of course served as well as the regional, spiced sausage ("Thüringer Bratwurst"). Check the event calendar for special musical performances. After all, 2 million visitors each year can't be wrong!
Annemarie | Travel On The Brain | Read more: The Best German Christmas Markets
Helsinki, Finland
Helsinki is a indeed one of the best places to spend Christmas in Europe.
The traditional cold weather sets the perfect mood for good food and beverages, shopping, and relaxing with friends. However, this modern city has a lot to offer in terms of culture, cuisine, and lifestyle, so exploring and being active in the city at this time is also a great idea.
Regardless of when you visit Helsinki, one of the best things you can do is to experience the Finnish lifestyle and enjoy some of the great saunas around the city. Do not leave Helsinki before you have a sauna experience – it is a must!
If you like to try different things, order some of the unique traditional meat dishes such as reindeer and bear in Finnish restaurants.
To get the most out of this city break, try to spend at least 3 to 4 days in Helsinki. Remember that some attractions may have different opening times, or be complete closed to the public during Christmas Eve and Christmas day.
The Tourism Office offers a list with up-to-date opening times for most of the city attractions and restaurants so you won't miss anything during your stay around Christmas time.
Thassia | Family Off Duty
READ MORE: Winter Travel in Europe on a Caravan
Bremen, Germany
Bremen, a.k.a. Hamburg's hip younger sister, is a cozy city in the northwest of Germany. It rarely gets any snow, but from the last week of November, the Christmas spirit arrives in town in full force.
With two main themed Christmas markets, and several smaller ones spotted around town, Bremen is the perfect weekend getaway destination to enjoy the warmth of a great mulled wine (non-alcoholic Kinderpunsch for the little ones!) and the aroma of all imaginable Christmas delicacies in the air.
The traditional Bremen Christmas market is held every year in the town square. It's an idyllic location where you'll find yourself surrounded by some of the most stunning buildings. The merry-go-round crowning the town square is a place for joy for anyone and everyone, and a short walk away you'll find the best white mulled wine at Ratskeller.
If you want a bite, why not try some of the popular "schmalzkuchen" or the ever so delicious "Kartoffelpuffer?"
An alternative to the traditional Christmas market is the neighbouring "Schlachte Zauber", along the river Weser. This themed Christmas market is all about artisan products and that Hanseatic maritime feel…pirate style! Be ready to travel in time, but beware, the evenings may be a bit crowded.
Henar | Wanderwings
The Faroe Islands, Denmark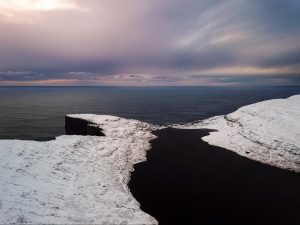 The Faroe Islands may seem like a very unusual and peculiar place to spend your Christmas in Europe, but I did and it was a very unique experience. Winter in the Faroe Islands is quite cold with lots of snow, temperatures dipping below zero, and strong winds making it all worse. However, it is also a very quiet time, full of magic.
Locals take time off to spend it with their families and there are practically no foreigners or visitors, so you will have the entire country to yourself.
I would say five days is enough to see practically everything there is to see in winter.
The best thing to do would be to warmly dress yourself, rent a car, and explore the many small villages and places. Also venture out to the hiking trail to Lake Sørvágsvatn / Leitisvatn and quaint towns like Sandavagur.
Dressing appropriately is paramount as temperatures are brutal in the winter. This is not a destination for party and the very few restaurants open in the winter in the Faroe Islands will close quite early.
Mar | Once In A Lifetime Journey | Read more: Things to do in Faroe Islands
Dresden, Germany
Dresden is one of the best places to spend Christmas in Europe. It's home to over 10 festive markets and one of the oldest Christmas markets in Germany where these types of markets began.
The Striezelmarkt on Altmarkt Square in the old town is now in it's 584th year, with lots of festive wooden stalls covered in lights. They sell everything from traditional Stollen cake to clothing, toys, crafts, and all sorts of other delicious things like gluhwein, chestnuts, and specialty bratwurst.
You can also venture to the other Christmas Markets like the medieval market, the romantic market, and winter lights market. If that's too many markets for you, don't forget about the usual sites in Dresden. For instance, the beautiful old murals, the Zwinger building, and the Frauenkirche, a baroque style church, reconstructed after extensive damage in WWII.
Dresden is just two hours away by train from Prague, or just under 3 hours from Berlin.
Sonja | Migrating Miss | Read more: 7 Winter Destinations in Eastern Europe
Rome, Italy
Spending Christmas in Rome was one of the best decisions I made when I first started traveling. Rome is less crowded in December making almost every tourist site less busy. The weather is also mild, not cold.
My advice is to spend Christmas day hearing the Pope's blessing in the morning (even if you are not Catholic or religious). The Swiss guard and the Rome police have bands that march out and have a ceremony. Then the Pope emerges on the balcony to give his blessing. The whole thing only takes about an hour but is a very festive atmosphere. While in St. Peter's Square you can also see the life-size Nativity scene.
Fewer crowds made visiting the Colosseum even more amazing. You can actually see things and spend time without feeling rushed. Book a tour so you can have access to the top level.
Keep in mind that the metro will close on Christmas day in the early afternoon. And the day after Christmas is also a holiday in Rome. Restaurants were still open, but grocery stores and historic sites were closed.
Tiffany | A Girl and Her Passport
NEED HELP PLANNING A TRIP TO EUROPE? CHECK OUT THIS AWESOME 2 WEEK EUROPE ITINERARY!
Lyon, France
Lyon is definitely one of the best places to spend Christmas in Europe. This is the gourmet capital of France, and boasts of some great restaurants (bouchons). The area around Lyon (Rhône Alpes) is also famous for their cheeses and wines.
You can go to Lyon for a weekend break. Or you could make a 1-2 week holiday of it, exploring the region around. It is the doorstep to the Alps, so during Christmas time, it's one of the best times to go skiing.
We love exploring Lyon's Old Town (called Vieux Lyon). It's full of cute narrow cobblestone streets and lots of bouchons. The Presqu'île neighborhood is always alive and has some of the best bars and cafes.
The main highlight of Lyon during Christmas time is the "Fête des Lumières." It's a 4-day festival around 8th December, which is a celebration of the Virgin Mary who allegedly spared the city from a major plague in 1643.
The tradition is that during this 4-day period, the Lyonnais put candles outside their windows every evening to give thanks to Mary ("Merci Marie" they call her). This creates an extraordinary atmosphere across the city.
Stefan and Sebastien | Nomadic Boys | Read more: How to go to the City Center from Lyon Airport
Barcelona, Spain
Barcelona is one of the best places to spend Christmas in Europe. A few days or a weekend in Barcelona is the perfect way experience the city during the winter. Aside from the beauty of Antoni Gaudi's architecture, you can also peruse the Christmas markets, and eat delicious Catalan food.
Antoni Gaudi's amazingly beautiful architectural sites are also open during the Christmas season. Parc Guell is open every day of the year. La Sagrada Familia and Casa Mila La Pedrera may have limited hours but will also be open. Casa Mila will also be outfitted in beautiful Christmas decor.  
There are a three notable Christmas or holiday markets to visit in Barcelona. The oldest and most famous Christmas market, The Market of Saint Lucia, takes place in the Gothic Quarter, at the plaza in front of the Barcelona Cathedral.
The Sagrada Familia Christmas Market is held at the park next to La Sagrada Familia and provides a more local vibe. The Christmas markets are perfect ways to see and experience Catalan traditions including the Christmas log and view detailed nativity scenes.
The Market of Kings occurs annually at on Gran Via between Plaça de la Universitat and Carrer Calabria. This market is more geared towards King's Day and provides a great opportunity to shop for gifts!
Even though Barcelona is pretty far south, don't forget to bundle up on your trip. It gets quite chilly! You can also grab some churros and hot chocolate to warm up at the Christmas markets.
Constance | The Adventures of Panda Bear
Riga, Latvia
Riga might not be the first place you think of visiting for the Christmas season, but they do take the holidays seriously. They claim to have invented the Christmas Tree. You can see so many artistic and unique Christmas trees as part of "The Way Through the Christmas Trees" – a tradition the last seven years.
There are also four Christmas markets in the Old Town area. They have plenty of food and warm beverages at all the Riga Christmas Markets. But if you prefer a sit-down meal, the Livu Laukums Market has an indoor restaurant called Sunshine. Take the kids to the market in Esplanade Park to see the adorable rabbits and enjoy carnival rides.
In addition to all the holiday attractions, be sure to leave time to appreciate the Art Nouveau architecture in the Old Town and visit Riga Central Market. If you would like to learn more about the fascinating history of Latvia, visit the Museum of the Occupation of Latvia and the National Museum of Art. Riga is a perfect weekend Christmas city break.
Anisa | Two Traveling Texans
Vienna, Austria
Vienna is a quite the romantic city with opera, dancing, and sundown drinks in cozy rooftop bars. This makes it the perfect place to spend Christmas.
Vienna is also famous for its Christmas markets. The tradition of decorated stalls dates back to the Middle Ages. It takes such pride of place in the city that there are 20 official markets for you to visit.
One of the most popular ones is the Viennese Market outside of City Hall. Just one of the many things to do in Vienna.
Did you know that Vienna plays host to Ball Season every Winter? 450 balls take place every January and February. That's over 2000 hours of dancing! So if you are sticking around after the festive activities there's a show not to miss.
Gemma | Two Scots Abroad
Salzburg, Austria
One of my favorite Christmas seasons was spent near Salzburg, Austria. This town, like many Austrian and German towns, fully embraces the Advent season.
Salzburg's Christmas Market is filled with twinkling lights, gluhwein, music, Perchten, and holiday cheer – all in the shadow of a medieval fortress. There are market stalls filled with gift items and sweet treats, performances, and of course, beer kellers aplenty.
Salzburg is the city of Mozart and the Sound of Music, but it is also home to the church where the iconic song "Silent Night" was first performed. You can take a tour to the little chapel on a hill on Christmas Eve – a surprisingly moving experience.
Just walking around Salzburg in December is a treat. Snow adds a seasonal flair, lights brighten up the shops, and the town itself is beautiful.
Besides all the very Christmassy things to do in Salzburg, there is lots of fun to be had in the big snowy mountains known as the Alps surrounding the city. We hiked to an ice cave in Berchtesgaden National Park, slid down wooden slides in a salt mine, and wandered around the smaller Christmas Markets in towns like Bad Reichenhall and Berchtesgaden. There are alpine and cross-country skiing opportunities, as well as fun, fast sledding hills.
Melynda | Traveling Mel | Read more: Salzburg City Tour
Prague, Czech Republic
The beauty of Prague is that it is great to visit any time of the year. The diverse architecture styles ranging from Gothic to baroque to modernist make it one of the most gorgeous and exciting cities in the world.
The Christmas holidays are no exception. While Christmas markets were not a thing in Prague until after the fall of communism, the Christmas markets now rival those in Germany. You can enjoy hot wine at these Christmas markets in the old town square and Wenceslas square. Both of which are a hop skip and a jump away from each other.
The weather in Prague during the holidays is often kind enough to go for a lovely walk around the city. You can also explore some of Prague's more alternative neighborhoods such a Zizkov which hold a record for the most pubs within a square kilometer.
Another factor which makes Prague a desirable destination is that it is centrally located in Europe and within proximity to many other great places. You could spend 2-3 days in Prague and combine with another excellent destination to make an even better holiday.  
Traveling to and from Prague is very affordable. The Czech Republic has a very comfortable railway system and leading bus company called RegioJet.
Heidi | The Southern Space Cadet
Istria, Croatia
If you are the type of guy or girl that doesn't care about a white Christmas, Istria is the place to be. The temperatures here are so mild and enjoyable, that you can enjoy the season without putting on a heavy jacket.
The traditions are just the same though. You will visit friends and family and eat way too much. The best thing to do is stay as long as you can. There are lots of fun festivals to attend, corner markets, and the spirit is real in this lovely seaside destination. You can feel it in the air! Come before Christmas to get the feeling and enjoy it all week long.
Perhaps one of the most fun things you should try is the Christmas fair that takes place in Brtonigla. It is there that you'll find honey, wines, locally made crafts, and various sweet treats. If you are traveling with a little one, they can visit with Santa Clause and remind him how good they've been.
Kaila | Nylon Pink | Read more : What to do in 5 days in Istria
Belfast, Northern Ireland
Belfast is one of the best places to spend Christmas in Europe. It shares just the right number of attractions for a seasonal weekend with lots of quaint and local charm for a festive welcome before Christmas.
At the same time, it is still a relatively quiet city even at the busiest of times. Here, a serene walk along the Lagan riverside, past the iconic Beacon of Hope and the "Big Fish," is one of the more romantic recommendations.
Otherwise, the excitement and bustle of the city is found at the main attraction of Belfast City Hall, which in winter becomes a rather magnificent backdrop for the annual Belfast Christmas Market. A landmark that can be easily reached on foot from the central train or bus stations, as Belfast is just a compact and easy to navigate.
So, the Christmas Market is the obvious place for some nightlife, with heated beer tents selling mulled wine and festive beers, but the many traditional bars of Belfast are a must for any visit to the city. And the "craic" (Northern Irish word for banter) is best to be found on the cobbled streets of Belfast's Cathedral Quarter, where the "Duke of York" is one of the local favorites.
Allan | It's Sometimes Sunny In Bangor
Sofia, Bulgaria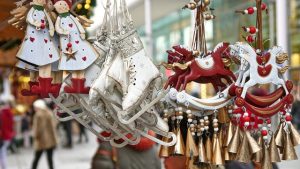 Sofia, Bulgaria is certainly one of the best places to spend Christmas in Europe. The opening of the Sofia Christmas Market kicks of the holiday season. This underrated market is small and elegant, with great food and prices that are some of the best in Europe.
Plus it has tons of holiday cheer! If you want to be in town for Christmas and see the market, you'll need to get into town a bit earlier than Christmas since the market closes traditionally around December 20th.

Some of my other favorite things to in Sofia in winter include visiting Sense Rooftop Bar (which has festive holiday cocktails and an amazing view of Alexander Nevsky), strolling Vitosha Boulevard, and walking the center of the city.
The Russian Church looks especially magical covered in snow. And of course, you can always go skiing on Mount Vitosha or in Bankso as part of your Christmas holiday.
Note that the Orthodox and Latin Christmas calendars differ, but in Sofia you'll find reservations necessary if you want to eat dinner out on December 24th. Oddly enough, more restaurants are open on December 25th than the 24th.
Stephanie | Sofia Adventures
Bansko, Bulgaria
Bansko, Bulgaria's largest ski resort and again voted as the cheapest skiing in Europe is a great place to spend Christmas. You'll get a white Christmas in a family oriented mountain town.  
It's one of the best places to spend Christmas in Europe for a number of reasons. Not least of which is the great skiing. And then the fact that there are fabulous hot spring spa pools around here too!
You'll find great mehanas (that's the Bulgarian for restaurant) to get a super meal in. There are traditional Bulgarian cafes and restaurants and you will get great Bulgarian food here. There are also bars like the Smokey Mountain, which provide amazing pulled pork and British Christmas specials.   
Take the opportunity also to go snowshoeing with local hosts and take one of the new Bansko Walking Tours.
Stay for 10 days at least – and also spend time in Bulgaria's capital, which is an incredible combo of communist, Islamic, Christian, and Jewish architecture and culture.
Sarah | A Social Nomad
Manchester, England
With the very exciting England's capital, London, you might forget about other cool cities, but they are as fun and less crowded. The second largest city, Manchester, is a great option for a short Christmas break. Or even a weekend with a nice large Christmas market in front of the town hall that extends to other squares and areas around the town center too.
There is everything you ever want from a Christmas market. It's also based on the German markets so you get all the chocolates, waffles, cheese, crafts, and everything in between. There is also an ice village to get all the Christmassy vibes with ice sculptures, ice skating, and even Santa's grotto.
There are two more ice rinks in the Winter Funland and on First Street. For an alternative scene, you can go to the Northern Quarter for hippy and low key festivities. The best place to stay within Manchester will be the city center near Piccadilly Gardens, which will be a walk away from all the main sights.
Esra | Arabian Wanderess | Read more: What to do on a weekend in Manchester
Glasgow, Scotland
If you're looking for a city break full of festive festivities this Christmas, Glasgow has got you covered. One of the best places to spend Christmas in Europe, Glasgow is a bundle of fun at the best of times, and Christmas is just the star on top of the tree.
For those in search of a traditional festive experience, there are Christmas Markets at George Square, just outside Queen Street Station, and at St Enoch's Square; look out for the toasted Christmas pudding wraps at the street food stalls.
The city center twinkles with Christmas lights, and Christmas shopping is a breeze in Glasgow with its wide selection of shops; even better if you can plan your visit for the annual Style Mile Christmas Carnival.
There's plenty room for a spot of wackiness at the most wonderful time of the year, and Glasgow's annual Santa dash is exactly that; thousands of people dressed as the main man himself, running 5K through the streets of Glasgow for charity.
You can also book pantomime tickets for a hilarious, local experience. Festive indulgence is absolutely necessary, so why not book in for festive afternoon tea at the Malmaison Hotel or a Christmas lunch at the beautifully restored Mackintosh at the Willow tearooms? 'Tis the season to treat yourself!
Kay | The Chaotic Scot
What in your opinion are some of the best places to spend Christmas in Europe? Let me know in the comments below.
Like it? Pin it for later!