Are you looking for the perfect 4

day London itinerary?
Look no further because I've got you covered. This is an itinerary we created before our trip to London last spring and I'm sure you'll find this pretty useful. Along with the 4 day London itinerary, I'll also help answer some of the most common questions you might have if it's your first time in London. So, sit back, relax, and enjoy the read.
RELATED POST:
26 of the Best Places to Visit in England

Why Should You Visit London?
I think the question you should be asking is, why not? Some people might call it "touristy," but I make no such distinctions about any travel destinations. For me, London has always been right on top of my travel bucket list, and I was definitely not going to pass up a chance to visit it.
Without a doubt, London is one of the prettiest cities you'll ever visit. Quite honestly, I'm yet to discover any part of it that's just plain and not outright beautiful. Its historic sights, vibrant nightlife, yummy food, world-class shopping, and beautiful street art make London every Instagrammer's dream.
Are 4 Days in London Enough?
The short answer, no. With the countless things to do and places to see in and around the city, 4 days in London are certainly not enough. In fact, if you're anything like me and love this beautiful city to bits (except the slightly unpredictable weather), even a month can fall short.
However, for budget travelers like us who can't afford it (be warned, London is pretty expensive!), 4 days in London can be enough if you plan your travel well. And to help you do that, I'm sharing our 4 day London itinerary that came in super handy when we visited London last spring.
The best part about this 4 day London itinerary? It manages to give you a taste of the city's popular sights as well as a flavor of a few towns nearby. And if you're a Harry Potter fan, the icing on the cake is that this 4 day London itinerary includes a trip to the WB Harry Potter Studio tour too.
Before we get to the actual 4 day London itinerary, here's some information you need to know if it's your first time in London.
When is the Best Time to Visit London?
London has a mild climate that makes it a great place to visit any time of year.
Spring lasts from March to May and temperatures usually vary between 52° to 59°F (11° to 15°C) with frequent rain. This is a great time to visit if you want to see the Cherry Blossoms, Wisterias, and other gorgeous flowers in bloom.
View this post on Instagram
Summer lasts from June to August when the days are warm (even hot sometimes) with temperatures ranging from 64° to 86°F (18° to 30°C). This is also the busiest time of the year as far as tourism is concerned, so you might need to book certain attractions in advance.
September to November is the fall season and temperatures are mild like in spring. This is a great time to visit as you can experience good weather and fewer crowds. The city starts to deck up November onwards for Christmas.
December to February are the coldest months with temperatures varying between 36° to 43°F (2° to 6°C). December is a great time to visit if you want to experience Christmas in London.
The Cheapest Way to Travel in London
Undoubtedly, the cheapest way to travel in London is by using the Oyster Card. This is a rechargeable card that allows you to access the Tube (London Underground), buses, tram, Overground trains, Docklands Light Rail, and most National Rail services.
The Oyster Card requires you to pay £5 as a deposit (which is refundable). You can then pre-load it with a certain amount and pay as you go about your journeys via public transport.
You can also rent a Santander Cycle which will cost you £2 for 24 hours. However, if you're short on time, the Underground is your best option to travel between the places mentioned on this 4 day London itinerary. And so, the Oyster Card will be more beneficial.
Our 4 Day London Itinerary
Since it was our first time in London, we definitely wanted to check out some of the most popular attractions in the city. So, you might find some familiar names on this 4 day London itinerary.
We've saved some of the quirky attractions in London for our future visits. Instead, we took time out to explore some of the gorgeous English countryside and also checked out the Harry Potter Studios in Watford.
Pro Tip: Buy a London Pass if you want to see a lot of places in a short time. Although the London Pass is pretty expensive, it usually comes cheaper than having to buy individual tickets to all the attractions covered in this itinerary. The best part? It also includes a Hop-On-Hop-Off Big Bus tour that you can avail to visit the places on this list.
London is a great city to explore with kids too.
Day 1 London Itinerary
Green Park
We started our day with a stop at Green Park in order to avail the Hop-On-Hop-Off service that takes off nearby. You can enjoy a nice little stroll across the lush green park when you're here.
Located in central London, it's one of the Royal Parks that's devoid of any lakes or buildings. True to its name, the beautiful park is almost entirely comprised of large trees and turf, with the naturalized narcissus being the sole flowers.  
London Eye
Board the Hop-On-Hop-Off bus and get off at the London Eye. This is known to be the tallest Ferris wheel in Europe at 135 meters and offers spectacular views of London.
However, if you're planning on going up to the observation deck at the top of The Shard, you might consider skipping a ride on the London Eye. The entry to this attraction is not included in the London Pass while entry to The Shard observation deck is.
So, if you want to save some of your money and still get a magnificent view of the city, you can skip the London Eye ride. However, it certainly makes for some great photos.
Big Ben
The famous clock tower of the Palace of Westminster, or as we better know it, the Big Ben is situated a short walk away from the London Eye across the Westminster Bridge.
Built in the neo-gothic style in 1859, the Big Ben was the biggest and most accurate chiming and striking, four-faced clock in the world at the time.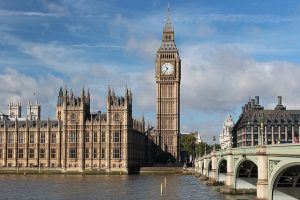 Unfortunately for us, the Big Ben was covered in scaffolding when we visited because of the renovation work that has started since August 21, 2017, and is due to last four years.
Westminster Abbey
The Westminster Abbey is a short walk away from the Big Ben and the Houses of Parliament and is a Royal Church. It has been the traditional site for the coronation and the burial of Britain's monarchs. Every British and English monarch has been coronated here since 1066 when William the Conqueror was crowned.
Since then, this Abbey has been the venue of many a Royal Wedding as well. In fact, on the day that we visited, the Abbey was unfortunately closed to the public owing to some Royal Ceremony being held for the upcoming wedding of Prince Harry and Meghan Markle.
St. Paul's Cathedral
Board the Big Bus again and get off next at one of London's most iconic sights, St. Paul's Cathedral. This beautiful structure dates back to the 17th century and is a stunning example of English Baroque architecture.
View this post on Instagram
You can enter the cathedral by paying a fee (included in the London Pass) or admire the beautiful architecture from outside. Remember that photography is prohibited inside the cathedral.
Chelsea FC Stadium Tour
We deviated slightly from the Big Bus route and made our way to Stamford Bridge – the home to Chelsea Football Club. The reason why we included this in our 4 day London itinerary is that my husband is a huge Chelsea fan.
If you follow English football, you might want to include a Stadium Tour of your favorite team in your London itinerary. You can learn all about the team's history and enjoy a behind-the-scenes tour of the stadium.
The Chelsea FC Stadium Tour provides you access to some of the areas that are reserved exclusively for players such as the press room, dugout, and the changing rooms. An experience that every Chelsea fan will cherish forever.
Tours run from 10 AM to 3 PM except for match days. Remember to check the closure dates before you plan your trip. The entry fee is £24 for adults and free if you have the London Pass.
Notting Hill
Your trip to London can never be complete without a visit to the city's prettiest neighborhood, Notting Hill. The pastel-hued houses of Notting Hill are a soothing sight for sore eyes and every Instagrammer's dream.
While in the area, don't forget to check out Portobello market on a Saturday. It's supposed to be the world's biggest antique market and is quite delightful to experience.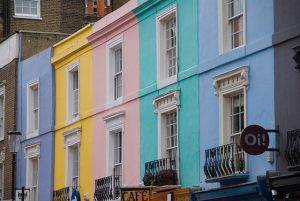 Tower Bridge
A few Tube rides later, we made our way to the Tower Bridge – one of the most beautiful bridges across the Thames that has been featured in countless movies and TV shows. This magnificent suspension and bascule bridge dates back to the late 19th century. Its towers and architecture are quite stunning, making it one of London's iconic sights.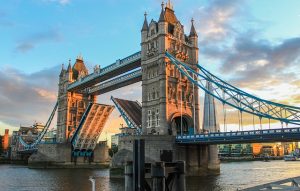 The Shard
Towards sundown, there's no place you'd rather be than at the observation deck at The Shard. This glass-clad skyscraper has 95 stories with 72 habitable floors and towers above the London skyline at an impeccable 309.7 meters. It's the tallest building in the UK and the view from its observation deck on the 72nd floor is breathtaking.
We spent at least a good 2-3 hours here watching the sunset and the glorious London skyline by night. Entry to the observation deck costs £30, however, it's included in the London Pass.
Day 2 London Itinerary
Day Trip to Lacock, Stonehenge, Bath, and Windsor Castle
If you're in London, you definitely shouldn't pass up a chance to explore the stunning English countryside.
View this post on Instagram
I'd certainly recommend the day trip we took to explore the village of Lacock, Bath, Stonehenge, and Windsor Castle. However, you can also choose to visit Oxford, Leeds Castle, Stratford-Upon-Avon, and many other places on day trips from London.  
Day 3 London Itinerary
Harry Potter WB Studio Tour
Given the huge Harry Potter fan I am, I definitely wasn't going to miss out on the Warner Bros Studio Tour when in London. We booked our tour from Golden Tours as this also includes transportation to and from the Studios in Watford.
This is your chance to transport yourself into the magical world of Harry Potter and immerse yourself into the experience of a lifetime. The Studio houses some of the original sets that were used in the movies including the Great Hall, the Gryffindor Common Room, the Forbidden Forest, and Diagon Alley to name a few.
You can also see some of the real props that were used in the movies such as the magnificent Yule Ball sculpture, potion jars from the Potions classroom, photos from Professor Umbridge's office, the Hogwarts Express, and countless others!
View this post on Instagram
Try out some of the costumes, buy some "Chocolate Frogs" or "Bertie Bott's Every Flavour Beans," and taste the amazing Butterbeer. Apart from these, there are many other interactive experiences that make this tour every Potterhead's dream.
View this post on Instagram
Day 4 London Itinerary
The Sherlock Holmes Museum
After a leisurely breakfast, we started our day with a visit to the Sherlock Holmes Museum. And yes, it is located at 221B, Baker Street.
Transport yourself back in time as you take a tour of Detective Holmes' first-floor study that overlooks the street. The house is impeccably maintained and you'll be able to get a taste of what Mrs. Hudson's house might have looked like in the Victorian ages.
Piccadilly Square
If you want to experience the pulse of London, you must visit Piccadilly Square. Located in the City of Westminster in London's West End, it's one of the city's busiest road junctions. Its large video displays and neon signs are what makes this public square so vibrant and attractive.
View this post on Instagram
Carnaby Street
A short walk away from Piccadilly Square is Carnaby Street. A must-visit if you're a shopping buff. This street in Soho is home to countless lifestyle and fashion retailers and a number of boutique stores. Even if you don't buy anything, the colorful and vibrant stores are a visual treat in themselves.
View this post on Instagram
Buckingham Palace
From Piccadilly Circus station, take the Tube to Green Park and then walk across the park to reach the grand Buckingham Palace. The Buckingham Palace, as you might already know, is the administrative headquarters and the London residence of the monarch of the UK.
The gardens at Buckingham Palace is the largest privately-owned garden in London. The Palace also has 775 rooms of which the state rooms are open to the public on some days in spring and winter and for most of August and September. Even if you can't get inside, its beautiful facades make for great photo opportunities.
If you have more time on your hands and want to add more to your London itinerary, check out these 75 attractions to add to your London bucket list.
Did you enjoy reading this 4 day London itinerary?
Pin it to save it for later.