Are you planning to take some day trips from Amsterdam?
We've got you covered. Learn all about some of the best day trips from Amsterdam in this post. It includes my personal recommendations as well as suggestions from some of my favorite travel bloggers.
The Netherlands has many gorgeous places and experiences to offer besides its beautiful capital city. So, when you plan your Netherlands itinerary, make sure to include some of these awesome day trips from Amsterdam. All of the places mentioned on this list can be reached via public transport from Amsterdam in just a few hours.
So, let's first take a look at my personal recommendations for the best day trips from Amsterdam that you shouldn't miss.
Haarlem
Haarlem is a quaint little Dutch city, just about 20 minutes from Amsterdam by train, that makes for one of the best day trips from Amsterdam. Even though it's much smaller in size than Amsterdam, it's a unique powerhouse of culture and history.
It's also a shopping paradise with its numerous quirky boutique and concept stores. In addition, you'll find a bunch of delightful cafes and restaurants here that serve yummy food. That, minus the crowds of tourists you generally see in Amsterdam, makes it a perfect choice for a day trip.
Head over to Grote Markt which is the most bustling part of Haarlem. It houses the Grote Kerk, one of the most noted monuments of the city dating back seven centuries. This remarkable piece of Gothic architecture was sanctified as a Cathedral but later converted to Protestantism. Also known as St. Bavo's Church, it is a UNESCO heritage site and houses some gorgeous artwork from the Renaissance.
The Grote Markt is also lined with numerous restaurants and cafes that offer mouth-watering dishes. Grab some lunch at any of these. We tried the Kipsate (Chicken Satay) at Grand Cafe Brinkmann which was delectable.
If you're interested in art by the Dutch Masters, do check out the Frans Hals Museum. And of course, if you love shopping, don't miss the concept stores like ID, Jansje, and Kloffie when you're at the Grote Markt square.
Finish off your day trip to Haarlem with a visit to Jopenkerk, a brewery that was previously a church. It is known to serve the best beers in Haarlem.
Haarlem can be easily reached by public transport from Amsterdam. If you take the train from Amsterdam Centraal, you can reach Haarlem under half an hour. You can check out train time-tables and plan your trip using the NS website. Or you can simply use Google Maps, like we did, to find the next bus from wherever you board.
READ MORE:
Muiderslot Castle
A trip to Muiderslot Castle in the town of Muiden makes for one of the best day trips from Amsterdam. The castle, originally built in the 12th century, has a fascinating history.
It was built and razed to the ground within a span of 20 years, and then rebuilt a hundred years later at the same spot! Today it's a part of Rijksmuseum and also a shooting spot for many TV shows set in the Middle Ages.
The castle has a moat around it and connected to the mainland by a drawbridge. It also houses interactive games, exhibitions, and cute costumes for kids to try. Walk up to the towers and check out the windows meant for soldiers to hurl stones at invaders. There's even a video simulation where you can practice doing this yourself.
If you have the time, you can even take a guided tour of the castle (included in your entry ticket). Explore the gardens around the castle which are gorgeous and beautifully maintained. In summer, the gardens are in full bloom and look incredible. We, of course, got to experience it in fall which has a different kind of appeal.
Before you leave, take a while to stroll through the charming little town of Muiden, along the canals or stop to grab a bite at one of its cute little eateries.
To reach Muiden, you can take a train to Weesp and then bus 110 that goes to Bussum Station via Muiden P&R. Or you can take bus 320 from Amstel Station that goes to Hilversum via Huizen. Or bus 327 going towards Almere Haven from Amstel Station. Google Maps will come in real handy for finding the optimal mode of transport.
READ MORE:
Zaanse Schans
This is one of my favorite day trips from Amsterdam. Zaanse Schans is pretty much a quintessential Dutch village which is also an open air museum. It is a window into old Holland where you can actually see windmills in action.
If you've ever wondered what Holland might have looked like in the 1800's, Zaanse Schans is where you can actually see it all. The beautiful village with its wooden cottages, lush green pastures with animals grazing, and the river Zaan flowing through it looks almost surreal.
Once in Zaanse Schans, you'll feel as if you have been transported back in time. You can simply wander through its pathways taking in the sights and sounds. Or visit the cheese-making and wooden clog-making shops.
You can even take a tour of the operational windmills. This involves an additional charge although entry to the village is free. If you're planning to visit the windmills, make sure to check the Zaanse Schans website for days and hours when visits are allowed.
There is also a museum that showcases the industrial past of Holland. Entry to the museum also requires a fee. To reach Zaanse Schans, take bus 391 from Amsterdam Centraal which will drop you off at the pretty village.
And now, let's take a look at some of the best day trips from Amsterdam recommended by some of my favorite travel bloggers:
Keukenhof
If you're in Amsterdam in March, April, or May and you like tulips, be sure to put Keukenhof gardens on your itinerary. It's certainly one of the best day trips from Amsterdam. Each spring, Keukenhof has 800 kinds of tulips on display throughout its sprawling gardens.
You can see the Keukenhof highlights in a couple of hours. However, if you want to take a boat trip through the tulip fields (highly recommended!), visit the petting zoo, see the indoor flower show, eat lunch, or spend time admiring the art installations, plan to spend a full day at Keukenhof.
Tip: There's a stand near the boat dock where you can get a fresh Stroopwafel. From Amsterdam, take bus 397 to Schiphol and change to express bus 858 (you can also drive, take the train, or even bike to Keukenhof). To make things easier, buy a combi-ticket that includes entrance to Keukenhof and round-trip transportation.
Cate Brubaker | International Desserts Blog | Read More: Best Sweets in Amsterdam
Alkmaar
Alkmaar is a city in the province of Noord-Holland that is most famous for its cheese market. However, there is plenty more to be found in Alkmaar.
The best part is that, not many visitors of the Alkmaar cheese market visit the city beyond its main attraction. Luckily for you, that means that the rest of Alkmaar is not filled with tourists, but with locals. That way you can explore Alkmaar the best way.
There are beautiful and hidden courtyards that are an oasis in a bustling city. You can find cute cafes, the nicest local boutiques, and great museums here.
All of these make Alkmaar one of the best day trips from Amsterdam. Whether you want to visit the cheese market or not, there's always something to do in this beautiful city. You can reach Alkmaar from Amsterdam in around 35 minutes from Amsterdam Centraal by train.
Manon van Schagen | Visiting The Dutch Countryside | Read More: 1 Day Alkmaar Itinerary
Hoorn
Hoorn is a beautiful Dutch town that makes for one of the best day trips from Amsterdam. It's a gorgeous medieval city in the province of Noord-Holland.
Not a lot of foreign tourists visit Hoorn as a day trip from Amsterdam. That means you can still have the city to yourself. The city of Hoorn is located on the sides of the Ijsselmeer which is the biggest lake in The Netherlands.
There are plenty of things to do in Hoorn, from visiting a cheese market to exploring a reconstructed VOC ship. And from walking along the beautiful streets to witnessing a magical sunset in front of the Ijsselmeer. And the best part? Hoorn is only a 30-minute train ride from Amsterdam Centraal station.
Manon van Schagen | Visiting The Dutch Countryside | Read More: Things to do in Hoorn
Utrecht
The city of Utrecht makes for one of the best day trips from Amsterdam. It's hard to believe that Utrecht is only a 30-minute train ride from Amsterdam as you won't find many tourists here yet.
It's a charming, medieval town that has plenty of things that you can do. From climbing the Dom tower, which is the highest church tower of The Netherlands since 1382, to exploring the beautiful streets and canals that appear out of nowhere.
Even when walking through Utrecht, you won't get bored. It's a wonderful city where you will find yourself wanting to get lost. The atmosphere of Utrecht makes it worth visiting even more. The laid-back and relaxed vibe keeps me in its power every time I visit.
Manon van Schagen | Visiting The Dutch Countryside
Den Bosch
Den Bosch or 'S Hertogenbosch, as it's formally known, is an hour by train from Amsterdam and is a picture perfect example of a traditional Dutch city. It's quaint cobbled streets and traditional architecture, which includes The Moriaan (considered to be the oldest brick house in Holland) are reasons to visit on their own. Certainly, one of the best day trips from Amsterdam.
However, what people may not know is that Den Bosch comes alive at night. Korte Putstraat is the place to head for a culinary adventure, with a plethora of restaurants to tantalize the taste buds.
A great place to visit for Christmas, festive shopping in Den Bosch is a must. Make sure you head to Robbies to pick up some seasonal gifts, if not to check out the decor. Also, head to chocolatiers Coco & Sebas (next to Robbies) before stopping at Stadsherberg 't Pumpke to try a traditional Bossche Bol (giant chocolate eclair).
Jasmine | The Life of a Social Butterfly | Read More: Festive Shopping in Den Bosch
Leiden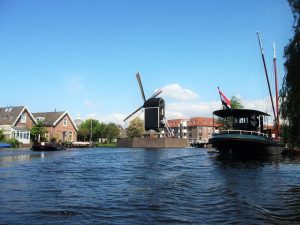 Leiden is a beautiful university city just 30 miles from Amsterdam and around a half hour by train from Schiphol Airport or the capital. It has many beautiful historic buildings and its own canal network lined with peaceful green spaces, and makes for one of the best day trips from Amsterdam.
One top spot not to miss when exploring is the De Burcht Leiden Castle which, besides being an interesting historic site, also provides great views over the surrounding area from the top of the fort walls.
Other attractions include the Valk Windmill, slap bang in the center of town, the De Zijlpoort and Morspoort Gatehouses, and some of the city's museums such as the Natural History or Antiquities Museums.
Other more subtle attractions include local artwork such as the Leiden poems etched on buildings all over town, the city's cozy café culture, and buzzing market areas – all worth a day trip from Amsterdam.
Kirstin McEwan | The Tinberry Travels | Read More: A Long Weekend in the Netherlands
Rotterdam
A day trip to Rotterdam is super easy from Amsterdam partly because it's really close and takes less than 40 minutes by train. But Rotterdam is also a great city which is often overlooked.
Rotterdam, in contrast to Amsterdam, is a lot more modern and edgy. Whilst Amsterdam is famous for its old canals and buildings, Rotterdam is famous for its cutting-edge architecture. The bright yellow cube houses and Erasmus Bridge are not to be missed.
Rotterdam is a really laid back city so it's a great place to take a break from the hustle and bustle of Amsterdam. They have ploughed a lot of money into regenerating Rotterdam recently and old worn out warehouses are being turned into street food venues and bars.
If you are a foodie, you should definitely check out the impressive Markthal (Market Hall). The huge mural itself is a reason to visit, however, the impressive array of food stalls is an additional one.
In an ideal world, you'd dedicate a few days to explore Rotterdam. However, if you're on a tight time frame, then it makes for one of the best day trips from Amsterdam.
Leanne Scott | The Globetrotter GP | Read More: 1 Day in Rotterdam
Lauwersmeer
A visit to the Waddenzee at Lauwersmeer in northern Netherlands makes for one of the best day trips from Amsterdam. The area can be reached by train, but it's best to hire a car so that you are free to travel around the area.
Two must-do activities are driving a Tuk Tuk around Lauwersmeer and a typical Dutch activity called Wadlopen. Wadlopen means walking in mud which can be done at the Waddenzee at low tide. Make sure to book a tour in advance as going out alone is not wise.
Lauwersmeer is a large lake with forest, grasslands, and typical Dutch villages around it. Stop at one of the villages for traditional Dutch herring or smoked eel.
In summer you can, of course, also go swimming or other water activities. The Waddenzee & Lauwersmeer are not just a great day trip from Amsterdam but also a great destination for a few days.
Chris Wiersma | Chris Travel Blog
Delft
One of the prettiest and best day trips from Amsterdam is Delft. Delft is a beautiful university town with adorable Dutch architecture, two noteworthy churches, and several factories where Delftware is still produced.   
Shopping and walking around the historic city center are two of the best things to do in Delft.  Although Delft is famous for pottery and visiting the factories are a highlight for many visitors, you'll find many cute boutiques as well as trendy cafes where you can have a great meal.
It takes about 55 minutes on the train to reach Delft from Amsterdam without a transfer, which couldn't be easier!
Karen Turner | Wanderlustingk | Read More: Things to do in Delft
Kinderdijk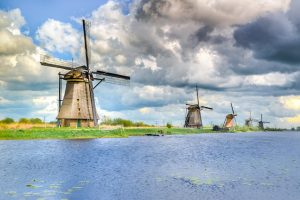 Though Kinderdijk isn't as close to Amsterdam as Zaanse Schans, it's still one of the best day trips from Amsterdam. The Kinderdijk network of 19 windmills was designated a UNESCO World Heritage Site in 1997 and is the best place to see a row of windmills in the Netherlands.
You can explore the Kinderdijk area by bike or walk on the paved paths on land. Alternatively, take a hop-on-hop-off boat through the canals to see another end of Kinderdijk or take a boat cruiser tour to see all of the windmills from the water.
Today, two of the windmills are museums so you can see firsthand how millers once used the windmills to remove water from the marshlands and release water back into the earth for irrigation purposes.
Kinderdijk can be reached from Amsterdam in a combination of ways, but the easiest is to take the train and transfer to a bus. From Amsterdam Centraal, take the train to Dordrecht or Rotterdam Blaak. Once there, transfer to Bus 90 or 93 and get off the bus at the Kinderdijk, De Klok stop.
Constance Panda | The Adventures of Panda Bear
Breda
Located about 100 km south of Amsterdam, Breda is the ninth biggest city in the Netherlands. With its world-class street art, diverse historic monuments, and a nice variety of cafés and restaurants, this charming little city makes for one of the best day trips from Amsterdam.
It is easy to get there from Amsterdam by train. You can travel either via Rotterdam or via Utrecht, and the trip takes about one hour and forty minutes.
Some of the major attractions in Breda include the Stedelijk Museum, a historical museum dedicated to the local heritage; the Bouvigne Castle, a wonderful fairy-tale castle surrounded by beautiful gardens; and an impressive collection of murals by local and international street artists.
Bianca Bauza | Nomadbiba | Read More: Street Art in Breda
Giethoorn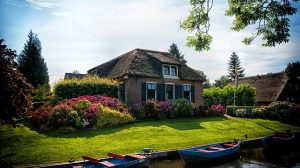 One of the best day trips from Amsterdam is to head to the "Venice of the Netherlands," better known as the town of Giethoorn. There are a few ways to reach Giethoorn, either by tour or city bus, train, or a private tour. A two and half hour ride later you will be at a magical little town.
Once you arrive, you can do choose to take a tour by boat with a group, rent your own, or walk the canals. If you feel comfortable driving your own boat, this may be a good choice. However, be prepared for heavy crowds at certain times of the year. Maneuvering a boat in the crowds can be tricky.  
If you choose to walk to get your bearings first, you can head down the path. Giethoorn is filled with a variety of restaurants, from authentic Dutch dishes to Italian pizza. So, there is pretty much something for everyone's taste buds.  
If you chose to drive your own boat, don't expect to be able to park it to eat, especially during busy times. There are also lots of shops to explore, a church and museum.
The best part is exploring and strolling along the path to look at the beautiful thatched roof homes and their gardens. Adding a day trip to Giethoorn to your itinerary is a great choice!
Sherrie Fabrizi Allbritten | Travel By A Sherrie Affair
Hoge Veluwe National Park
The most famous National Park in The Netherlands is Hoge Veluwe National Park. It's located in the eastern part of the country near the city of Arnhem and the German border.
You can get there from Amsterdam by car (approx. 1.5 hrs driving) or by public transport. Take a train to Arnhem Central Station and then catch a public bus to the National Park.
Hoge Veluwe is well known for its wildlife watching and the Kröller Müller Museum where you can find various Van Gogh paintings. As for wildlife, you will hopefully see red deer, wild boars, roe deer, and mouflons.
Another attraction inside the park are the white bicycles which you can use for free. Riding a bike really is the best way to explore the park and using them is included in the entrance fee. The Hoge Veluwe National Park certainly makes for one of the best day trips from Amsterdam.
Antonette Spaan | We 12 Travel | Read More: Wildlife in Hoge Veluwe National Park
Gouda
Gouda is a small town in the Netherlands, famous for its cheese. It makes for one of the best day trips from Amsterdam. Every Thursday morning from April to late August, there's the cheese market where traders come to buy cheese. It's pretty interesting to watch and draws many tourists!  
There's a cheese museum too if you feel like to want to learn more about it or you can just wander around and enjoy the beautiful buildings and canals. The main square has a lot of cafes and restaurants and sometimes has market stalls.
Gouda is easy to reach by train from Amsterdam and takes less than an hour. If you want to drive, there are many parking lots around the town. However, beware that on a Thursday morning, it can be very busy due to the cheese market. Sundays are best if you want a quiet day trip as shops are still open but it's much quieter.
Kirsty Bartholomew | Lost in Landmarks | Read More: DFDS Mini Cruise to Amsterdam
Zwolle
Zwolle is a charming small city that exudes Dutch atmosphere, and it is well off the typical tourist path. It's the capital of The Netherlands' north-easterly province, Overijssel, and is easily reached in just over an hour by taking the Groningen bound train from Amsterdam.
Architecture lovers will find plenty to admire in Zwolle from the 14th-century city gates to the city's Art Nouveau district. Those who enjoy art can't miss the Museum de Fundatie with its superb expressionist collection. Zwolle is also home to one of Europe's most beautiful bookstores, Waanders in de Broeren, in a former church.
But, for me, Zwolle's best, and most surprising attraction is its food scene which ranges from Michelin-starred fine-dining restaurants to cozy cafes. Foodies can take a unique food tour of Zwolle's tastiest treats hosted by "The Pleasure Ladies," revel in artisanal bread at a local mill and bakery, or discover one of the many farms open to visitors where you can enjoy fresh, local delicacies from strawberries to cheese. If you visit in the autumn, don't miss the world-class Chef's Revolution festival featuring the best chefs from around the country.
Alison Cornford-Matheson | CheeseWeb | Read More: Things to do in Zwolle
De Biesbosch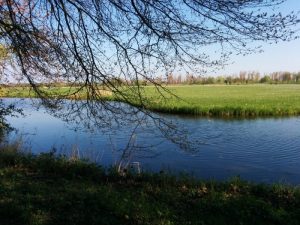 A wonderful way to escape the hectic city comes in the form of Nature Reserve De Biesbosch, a river delta with willow forests and creeks. It is the biggest freshwater tidal area in Europe and its most famous inhabitant is the beaver.
There are heaps of opportunities for walking and biking in the reserve, but the best experience is from the water. Take an electrical cruise and enjoy the sounds of the wildlife or get active and rent a canoe. Extend your trip by staying the night in a floating eco lodge or camp in a beaver lodge.
NP De Biesbosch can be easily reached from Amsterdam by car in about one hour. If you'd rather go by public transport, catch a train to Dordrecht and subsequently the bus to the National Park. It should take you less than two hours.
Barbara Rodrigus | Mums on Flipflops
Lisse
Lisse is one of the best day trips from Amsterdam to take in spring. Every year during spring, as the Dutch landscape is filled with blossoms, Lisse becomes the center of attraction with vast stretches of Tulip fields and the famous Keukenhof gardens.
The Keukenhof Tulip festival is the world's largest flower show and it is highly recommended that you book the tickets online in advance. We were quite shocked by how crowded it was even on a Monday with tourists all over the world. The flower shows are indeed a visual spectacle that will be etched in your memories forever.
After feasting your senses in the garden, you can take a boat-ride into the actual tulip fields where the flowers are cultivated. The best time to take a day trip to Lisse is during the blossom season from late March to early May, but there are other attractions too which are evergreen.
The tulip museum showcasing the history of tulip cultivation in Holland, the medieval castles like Keukenhof Castle are testimony to the glorious Dutch history and medieval architecture. You can easily spend 5-6 hours in the garden and return or explore some of these places too for the rest of the day.
Sinjana Ghosh | Backpack & Explore | Read More: 3 Day Amsterdam Itinerary
Maastricht
Maastricht is one of the most beautiful and stylish cities in The Netherlands. It was founded in 50 BC by the Romans. It is the capital of the south-eastern province of Limburg and only a stone's throw away from both the Belgium and German borders.
To reach Maastricht from Amsterdam Central Station will take you 2.5 hours by train. Trains depart every hour.
It will only take you 10 minutes to walk to the old city center that has landmarks like the Vrijthof, the Bonnefanten Museum, Saint Servatius church, and the old city walls. Maastricht became the symbol of the European Union when the Treaty of Maastricht was signed here.
Since then Maastricht has become a drawcard for many visitors from all over the world who enjoy the fantastic food, the lovely terraces, and the luxurious shopping street, the Stokstraat. It certainly makes for one of the best day trips from Amsterdam.
Jessy Lipperts | Planet Pilgrims | Read More: Things to do in Rotterdam with Kids
The Hague
The Hague, the political capital of the Netherlands, makes for one of the best day trips from Amsterdam. From Amsterdam Central Station, you can travel directly to The Hague in an hour. You can get off at The Hague Central Station or at The Hague Hollands Spoor. From both stations, it's a 15-minute walk to the city center.
There are so many things to do here. Have a drink at the highest restaurant in the Netherlands, stroll through the courtyards in the city, and see the Palace where our king works. You can also take a walk through the Palace Gardens, try a local Hague beer, climb The Hague Tower of the Great Church, or take a cruise with the Ooievaart for 1.5 hours.
Henriette Bokslag | Travel Around With Me
Scheveningen
Do you want to escape the crowds in Amsterdam? Travel to The Hague for a day and enjoy the beach at Scheveningen. You can reach The Hague from Amsterdam Central by train in an hour. From The Hague Central Station, you can take tram 1 and 9 directly to the beach of Scheveningen in about 20 minutes.
If you want to stay the night, book a room in the luxurious Kurhaus Hotel that has some great wellness facilities and a swimming pool.
Go floating on the Pier in Scheveningen, or if you like some adventure, go ziplining from the Pier Tower over a length of 300 meters. If you'd prefer some relaxation instead, climb the lighthouse, walk to the harbor, and eat the best quibble at Simonis in the harbor.
Henriette Bokslag | Wellness Spots
The Zuiderzee Museum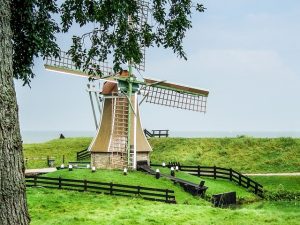 If you're looking to get a real sense of The Netherlands of the past, there is nowhere more magnificent than the Zuiderzee Museum, north of Amsterdam in Enkhuizen. Here, life of the past is recreated with a charm that's hard to beat.  
Catch the train from Amsterdam's Central Station and before you know it, you'll be hopping on the boat that departs from the Visitor Centre and arriving in The Netherlands of old.  
Packed with shops, houses, and activities, the village comes complete with windmills and canals, a steam laundry, a fish-smoking house, a school, church, pharmacy, blacksmith, and cheese warehouse. Staff dress in traditional clothes and there's not a plastic clog or tulip in sight. It's a truly incredible place to spend the day. Certainly one of the best day trips from Amsterdam.
Tracy Blacher | Amsterdam Wonderland | Read More: The Zuiderzee Museum
Antwerp
There are a few reasons why Antwerp is one of the best day trips from Amsterdam. Namely, it's so close! If you're able to drive, then you can be there in less than 2 hours. And plenty of tour companies offer day tours by bus.
Antwerp itself is a wonderful blend of old and new. Popular historic sites include Cathedral Of Our Lady and the Plantin-Moretus Museum.
At the same time, you'll also find plenty of modern bars, cafes, restaurants, and clubs to explore. We actually ended up spending 2 nights in Antwerp as we enjoyed our time there so much!
As a final tip, if you do decide to drive, then make sure you register your car online beforehand. The city has strict no entry limits for cars of a certain age. You can find out more here.
Bradley Williams | Dream Big, Travel Far
Bruges
Although slightly longer than your average day trip from Amsterdam, Bruges is so spectacular, it is well-worth the effort. This romantic, medieval town can be reached in three hours from Amsterdam. Catch the Thalys train to Bruxelles-Midi, where you will need to transfer to an intercity train which will take you all the way to Bruges.
Arriving in Bruges will make you feel like you have stepped foot into a magical fairy-tale. There are old medieval buildings to explore, swans floating through slow-moving canals, picturesque cobbled streets with horse-drawn carriages, and weeping willows over a beautiful lake.
You truly couldn't dream up somewhere this spectacular. Your day trip to Belgium wouldn't be complete without a visit to the town's charming main square where you can enjoy a Belgian beer on one of the many outdoor terraces.
Roxanne | The Coastal Campaign
Brussels
Brussels is the capital city of Belgium, and it makes for one of the best day trips from Amsterdam. Typically, you can travel to Brussels from Amsterdam in 2 hours and 50 minutes by car.
But my recommendation will be to take a high-speed train (Thalys) from Amsterdam Central to Brussels Midi and you will arrive there in 2 hours. Take an early train (6:15 am) and arrive in Brussels at 8:15 am – just in time to enjoy Belgium waffles and your morning coffee.
Spend the first half of the day in exploring the Grand Place/Grote Markt, Royal Palace of Belgium, and the Flea market. Take the lift at the flower market to enjoy some amazing views.
In the afternoon, head to downtown and then to the Atomium. Take a late train (8:00 pm or so) back to Amsterdam.
Mayuri Kashyap | To Some Place New
For some more ideas on the best day trips from Amsterdam, check out
this
post.
Do you know of any other great day trips from Amsterdam? Let me know in the comments below.
Like it? Pin It!