When someone says "Amsterdam", a lot of people start forming mental images of a city profound in debauchery. This stereotype could not be more inaccurate. It is true that Amsterdam provides way more freedom to its people than any other city does. But the great thing about the city is that the people know how to enjoy such freedom, responsibly.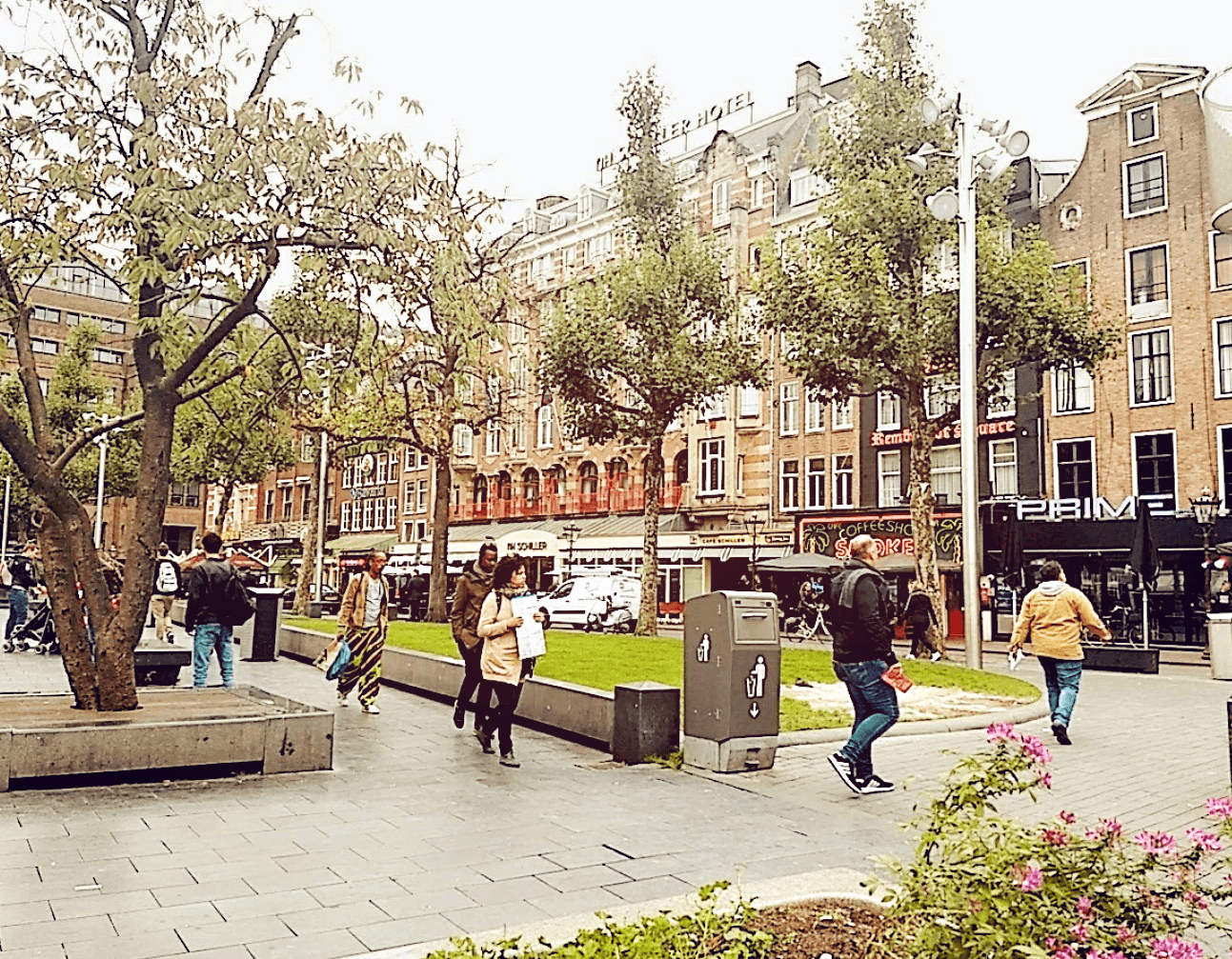 To me, however, Amsterdam is special in a very different way.  If there was ever a city that you could fall in love with, at first sight, it would be Amsterdam.
A long time ago, I saw a picture of the city in a travel magazine. It showed the canals lined with trees on both sides, a bridge adorned with flowers and a bike resting against it. It symbolized beauty and tranquillity.
This picture was etched in my mind. However, I often wondered if the city would look different in reality. Imagine my excitement when I see this, upon arriving in the city! Amsterdam didn't disappoint me at all.
READ MORE: 27 Best Day Trips from Amsterdam
Where To Stay In Amsterdam
We had booked our stay at the easyHotel in the city center south area. It had some great reviews on booking.com and was pretty affordable. It is situated in a residential and safe neighborhood. It has lots of shops, cafes, restaurants and even a pharmacy and departmental store nearby.
The staff was extremely sweet and helpful. They're available 24/7 at the front desk. Rooms were clean, although a bit small. However, TV and WiFi are available only for an extra charge. We didn't require the TV and our Orange data card was sufficient for the Internet.
READ MORE:
The hotel doesn't have a restaurant or room service except for a coffee machine at the reception. But we didn't mind because of the easy availability of cafes and restaurants in the vicinity.
The best part was that it was right next to the Ferdinand Bolstraat tram stop and therefore very convenient.
Getting Around In Amsterdam
The tram is the best and most cost-effective public transport available in Amsterdam. You can rent bikes which might be even cheaper and is a great way of getting around. Unfortunately, I've never learned how to ride a bike and hence we had to settle for the tram.
For planning our routes, Google maps proved to be very efficient. It showed us which lines we needed to take and where to change lines etc.
You can buy a one hour ticket or 1 day/multi-day tickets (valid on trams, metro, and buses). These are available with the driver and also at metro stations. The 1-hour ticket costs €2.90 and the 1-day ticket costs €7.50, which proved to be more cost-effective.
What To See
I've put together a list of all the major attractions in Amsterdam here. You can decide on the ones who wish to visit depending on your personal preferences. As for example, we skipped both the Van Gogh and the Rijksmuseum (having visited quite a few museums recently). Instead, we took out time for some lovely day trips from Amsterdam. I'll share more on that soon.
Floating Flower Market
The Dutch call it The Bloemenmarkt, and it is the world's only floating flower market. It consists of a long series of florist shops along the canal. You can get a variety of souvenirs here too.
We traveled in fall, which isn't the Tulip season. Most people where buying Tulip bulbs at this time which would blossom next year. These florists export Tulip bulbs and provide international deliveries too.
Waterlooplein Flea Market
This flea market has a variety of stalls selling various kinds of merchandise. Souvenirs are pretty cheap here as compared to any of the other gift shops. You can also buy muffins, ice-creams, lollipops, tea, incense, and chocolates made from Cannabis. We tried a lollipop and no, it doesn't get you high 🙂
Dam Square
Dam Square is perhaps the most popular area in Amsterdam. It is the historical center of the city and houses many notable monuments and buildings. Some of the most popular ones are the Royal Palace and Nieuwe Kerk.
The area also has a large number of shopping outlets and is usually bustling with activity. Madame Tussauds is also located at one end of the square.
Street performers are a common sight to see at the Dam Square. We encountered Darth Vader and Optimus Prime among many others.
The best time to visit the square is towards the evenings. It is a nice place to sit back and munch on a hot dog while taking in the many sights and sounds.
READ MORE:
Jordaan
Jordaan is a neighborhood in Amsterdam that's undoubtedly the prettiest. There are a number of cute little cafes by the canals. You can sit in one of these with a beer or read a book in solitude.
The Anne Frank Museum is also located in Jordaan. Right next to it, there is a shop that makes amazing Dutch pancakes! It is called The Pancake Bakery. We tried a traditional Dutch pancake with lemon honey topping. It was delicious!
Anne Frank House
The Anne Frank House is one of the best attractions in Amsterdam. The house, now a museum, is where little Anne spent a few years hiding from the Nazis. She also wrote her famous diary in this very house.
It was on top of our Amsterdam itinerary. But we missed it, due to one simple blunder. Our failure to buy tickets online in advance. It was something that was on my mind, but somehow I missed it totally.
I would strongly recommend you to buy tickets online, at least two months in advance. They get sold out soon. With these tickets, you can enter between 9 am and 3:30 pm. Ticket sales on the spot begin at 3:30 pm and the average waiting time in the queue is 3 hours! We made three attempts but gave up eventually due to the unending wait.
Canal Tour
The canal tours in Amsterdam are a great way to see the city. These tours are usually for an hour and include audio commentary too.
There are various tour operators. We took the one operated by Lovers. One of their starting points is in Jordaan, next to the Anne Frank house. The last tour starts at 6 pm in the evening.
Red Light District
De Wallen or the RLD needs no explanation. Contrary to popular belief, it is one of the most crowded areas, bustling with tourists. It isn't shady at all and is perfectly safe for women.
There are also a number of cannabis coffee shops in this locality. The Bulldog is the most popular one. We bought a pre-rolled joint here (the mildest one) for €5, to go with a hot chocolate. Divine!
READ MORE: A Guide to Amsterdam's Coffee Shops
Some of the other popular attractions in Amsterdam are:
READ MORE:  
Final Thoughts
We spent four days in Amsterdam, out of which, two were spent on some amazing day trips nearby.
As for just the Dutch capital, 2 days are more than enough for you to cover most of the attractions. However, the beauty and romanticism of the city will leave you hungry for more. It definitely makes to my list of favorite cities in the world and is a place I would love to revisit many more times.
Like it? Pin it!