"One's destination is never a place, but always a new way of seeing things."
Hope you guys are enjoying your Thanksgiving weekend. And here's another inspiring traveler story for you to enjoy on your holiday 🙂
My guest today is Kelly Kenderes, a Canadian girl originally from Montreal and now based out of Budapest, Hungary. During the week, she's an English Kindergarten teacher and in her spare time, a traveler and blogger.
Kelly belongs to two completely different cultures (Filipino & Hungarian)! This allowed her to grow up with an open mind & a crave for learning about new cultures and traditions. Here's her story.
What got you into traveling?
I have been traveling for as long as I can remember. I must say, that I have my parents to thank for this. To them, traveling has always been a very important aspect of their life.
My father always told me "traveling teaches you many things in life, that school, can't ever teach you". This is something that I'll never forget.
Growing up, they pushed me to travel during every possibility that was ever given to me; school trips, friend getaways, etc. To this day, I am thankful that they influenced me in such a positive way. Thanks, mom & dad!
What was your first travel experience like?
Well, my first travel experience was at the age of 18 months. We flew from Montreal to the Philippines. Back in the day, it took over 26 hours to travel to Manila. I bet that was challenging, with an 18-month-old.
How did you take up blogging?
I created my first blog back in 2013, it was more of a lifestyle blog. I ended up pursuing other things and focusing on school. In late 2016, I really wanted to get back into the blogging world; I just didn't really have the confidence to do so.
A few months later, my very supportive boyfriend motivated me to start my current blog – Travelette. It's been a fun yet challenging experience, but I am loving it!
Which is your favorite destination and why?
I'd have to say my new favorite has to be London. We recently went for a few days and I completely fell in love. It has been a dream of mine for the longest time, to visit London.
The city has also been my "dream place to live" even though I had never been. Now I can definitely say that it IS.
It is just a remarkable, beautiful city with so much to see and LOTS of diversity (which I love). It is iconic and every single aspect of it, the vibe, the sounds, the architecture is just amazing. I highly recommend going to London and to see it yourself!
Tell me about one of your most memorable travel experiences.
Over the summer, we went to Maui, Hawaii & celebrated some amazing milestones. It was the first time my immediate family was together, in over 10 years.
It was beyond amazing and the fact that we were in Hawaii, made it that much more memorable! But, the jet lag was definitely a challenge.
We flew from Budapest to Montreal (6-hour time difference) then flew from Montreal to Maui, a day later (another 6 hour time difference!).
What is your advice to people who wish to travel but think they can't?
Do it. You know that you CAN. And it will be the most beautiful and rewarding experience of your life.
It is a scary and challenging thing to do but the outcome is always far greater than anything negative. You will learn great things from the things you see, the people you meet, and the food you try.
Whether you are traveling to the next town over, or to another country, there is ALWAYS something to learn. And you CAN do it. And never forget "Travel is the only thing you buy that makes you richer".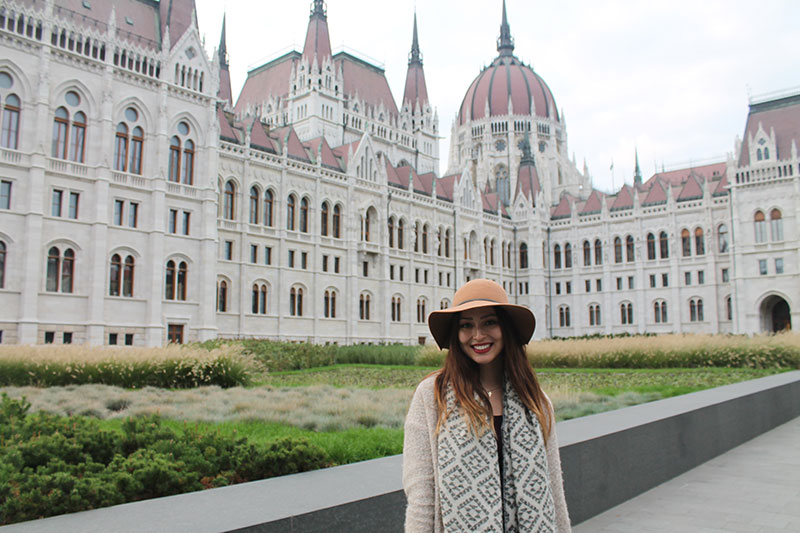 I completely agree with you, Kelly! It's been lovely hearing from you. Thanks for sharing your story with my readers 🙂
You can follow Kelly on:
Blog: Travelette
Instagram: @kellykenderes
Facebook: @travelette.ca
Twitter: @kellykenderes
Youtube: Travelette
Like it? Pin it!