This is a guest post by Neha – an avid trekker and explorer who loves meeting new people and gets attached to their culture very easily. She has been living in Dubai for the past year and a half and shares local and insider tips on her blog Dubai Wikia. 
There's no dearth of places to see and things to do in Dubai. Everywhere you turn, there's an impressive sight – quite likely brand new, like the Dubai Frame. That's exactly why you need to know the best things to see in Dubai so you can decide which ones to spend time on.
Dubai an exciting city – uber clean, extremely hospitable, glamorous, and glittery. It has an incredible way of keeping a traveler hooked so they keep coming back for more. Here are 10 amazing Dubai attractions you simply must check out when you're in the city.
Top 10 Things to Do in Dubai
1. Ride a Gyrocopter
A gyrocopter is a rotorcraft that can turn around completely to allow passengers to get a 360-degree view of Dubai. One of the best ways to lay eyes upon the magnificent Dubai skyline is from one of these gyrocopters.
Sign up for a 20-minute two-seater gyrocopter ride and marvel at the incredible structures beneath you. This is your chance to see the Dubai Frame, the Dubai Eye, the Burj Khalifa, the Burj Al Arab, the Palm Atlantis, and the Palm Islands from a completely different perspective. Definitely one of the best things to do in Dubai.
READ MORE:
2. Perform Underwater Yoga
For a unique experience, head over to the Lost Chambers Aquarium at Atlantis the Palm. This aquarium, one of the best Dubai attractions, is home to more than 65,000 marine animals. You can wade and swim among them underwater.
You can even participate in a yoga class with the colorful fish, the harmless sharks, and the rays in front of you. It's a seemingly incongruous idea, however, terrific in execution and second best only to camel trekking. The experience is unparalleled – one of the most unique things to do in Dubai.
READ MORE:
3. Enjoy The La Perle Show By Dragone
La Perle is a new sort of entertainment that has taken over the city of Dubai. This easily makes it to the list of best things to do in Dubai. So, if you're visiting Dubai, don't miss this spectacular show.
The show has been created and produced by Franco Dragone, one of the greatest creative producers alive. La Perle transports you into a fantasy world that literally sucks you in.
Sit comfortably in the 1,300-seat theatre as the stage is filled with 2.7 million liters (713K gallons) of water and 65 international artists showcase the performance of a lifetime. As far as Dubai attractions go, this one is at the top of the list.
4. Explore Madinat Jumeirah
Madinat Jumeirah is that less-lauded but incredibly picturesque area of Dubai. With its Venice-like waterways weaving in and out of buildings and the Burj Al Arab looming majestically in the background – it's definitely one of the best Dubai attractions.
Your Dubai tour will be incomplete without some shopping at Madinat Jumeirah. Capture some picture-perfect memories of your time in Dubai here. Shop to your heart's content at the Gold Souq or enjoy some snacks and a cold drink at McGettigan's Madinat Jumeirah.
READ MORE:  All You Need to Know About the Al Fahidi Souk, Dubai
5. Ski Indoors at Ski Dubai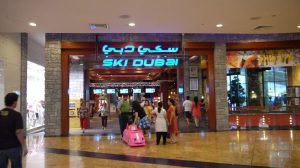 Granted you're in the desert, and the sun is blazing down on you. That doesn't mean you cannot ski in Dubai. Just head to Ski Dubai and you'll be stunned to see several huge mountains of ice and a snow-covered playground for kids. What's more, you can even see penguins running and hopping on the snow!
Here you can ski, snowboard, zorb, toboggan, or just relax in the café with a cup of Joe. Enjoy the world's biggest indoor slope – the 400 meter (1312 feet) long diamond run. Ski Dubai is the size of three soccer fields and is 25 levels high. Now that we've told you about Ski Dubai, you sure won't struggle with the list of things to do in Dubai.
READ MORE: The Perfect 5-day Dubai itinerary.
6. Marvel at The Dubai Frame
The Dubai Frame is one of the newer Dubai attractions that was unveiled recently. It is a huge golden picture frame that encapsulates old and new Dubai within its scope.
The 150 meter (492 feet) tall structure is connected by a glass-fronted bridge which offers a 360-degree view of the magnificent skyline. As you get into the elevator to reach the Dubai Frame, you'll be presented with a peek into Dubai's humble history as a pearl diving and fishing village to the glittering city it is today.
7. Check Out the Monkeys at City Walk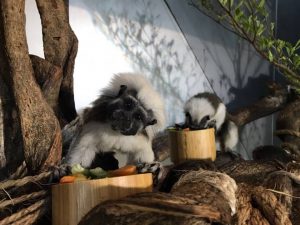 The great bio-dome in City Walk called the Green Planet literally brings a rainforest into the hot and sweltering city of Dubai. Check out the twin tamarin monkeys hanging from the rainforest trees. The immense height of the dome allows these monkeys and other rainforest fauna to live naturally at the Green Planet.
Admire 3,000 species of flora and fauna strewn around the Green Planet and the fabulous rainforest smell and atmosphere maintained within the dome.
https://www.lesrendezvousdecamille.fr/tb6ncp9r

A visit to Green Planet is certainly one of the best things to do in Dubai.
8. Revel in Dubai Parks and Resorts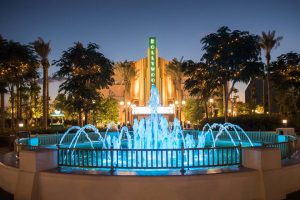 The Dubai Parks and Resorts theme park has five zones – Riverland, Bollywood Parks, LEGOLAND, Motiongate, and LEGOLAND water park. Bollywood Parks has several 3D, immersive rides such as Sholay, where you get to shoot the villains with laser guns.
At Motiongate Studios, you'll enjoy immersive rides based on the Hunger Games trilogy and Kung Fu Panda. There are roller coasters, immersive motion simulators, live shows, and water rides.
Tour Motiongate studios with friendly Smurfs. Sign up for the scary abandoned zombie apocalypse where the only way to escape is to jump down from an 82 meter (270 feet) high tower – one of the top things to do in Dubai.
https://www.john-kirk.co.uk/?p=crs9l19kbj


9. Enjoy The Awesome IMG Worlds Of Adventure
Spread over an area of 1.5 million square feet, it's the largest indoor theme park in the world. Admire the immense temperature-controlled area and sign up for some epic rides here.
Its highlights include the gravity-defying Predator, which features a 35 meter (115 feet) drop. Don't miss a ride in the high-speed Velociraptor roller coaster which reaches speeds of 100 kph (60 mph) in just 2.5 seconds.
There are four epic adventure zones in IMG Worlds Of Adventure. Each has fabulous sights, shows, and attractions. One of these zones is based on MARVEL characters and another based on Cartoon Network characters. The Lost Valley and IMG Boulevard offer a unique array of thrilling rides and attractions.
10. The Burj Khalifa
The Burj Khalifa has made it to many lists as the best Dubai attraction that's not to be missed. It's indeed Dubai's classiest address and one of the most eye-catching Dubai attractions.
You can check out the At-The-Top experience on the 125th floor or head to the 148th floor and see all of Dubai – all the way to the sea and the encircling islands.
Final Thoughts
These are 10 of the absolute best things to do in Dubai that you'll definitely enjoy when you visit. You might want to check out other attractions such as the Burj Al Arab, the Palm Islands, and the Dubai Eye on Bluewaters Island (not yet complete) too. Have a wonderful vacation and let us know how it went!
Like it? Pin it!